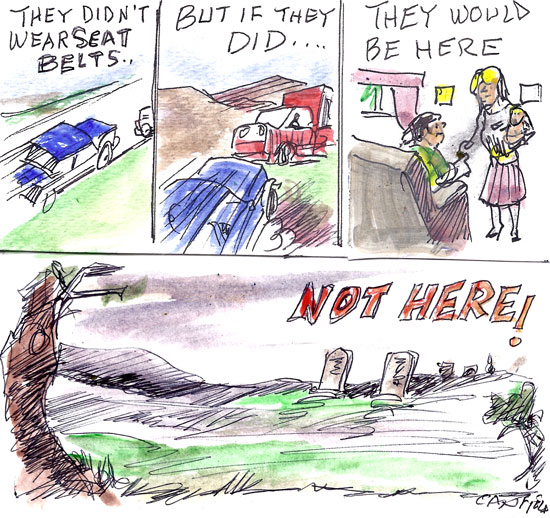 Some disagreements on the Carefree council??
During the Carefree Town Council meeting on Sept. 3 there seemed to be a new tone of awakening with certain council members. Historically the only way you can stay one of "the good guys" is to always agree with the mayor. I, for one, did not do that as often as he would have liked but I never backed down if I had the FACTS AND REAL NUMBERS. My goal was to always support ALL of the residents of our fine town, not just rubber stamp the issues important to the 'chosen few'. And I did my homework in advance.

I was delighted to hear the former vice mayor disagree with the mayor on a few of the items being presented to gain support for the idea that we need to build a new huge building … go into debt … and give away some of the fees/taxes or other items that would be due to the town. (Go Get 'Em Melissa!)

I listened for an hour about all the options being bantered around on how to justify the new building. I kept waiting for some hard numbers, and someone to say how/when we would see some revenue to offset the ideas being discussed. One item 'they' always bring up is the fact that the water company will start repaying its' loan to the town. Good Golly Ms. Molly doesn't anyone remember that money came from the Towns reserves … years ago … no interest is collected and now they say we can 'spend' it to build building we don't need. Sometimes it seems that they think we are a bunch of idiots in this town.

Jim Van Allen
A Carefree Conservative
Carefree Town Center Stakeholders' Petition to the Carefree Town Council
The Carefree Town Center merchants and building owners (who when combined have invested several MILLIONS in property and inventory, as well as hours and hours in TIME to make the Town successful), hereby APPEAL to the Town Council to seriously consider funding and support of TRUE "Economic Development" projects. Consider true economic development projects and effort that will attract visitors and shoppers into the Town Center and revive our businesses such as:

~ Negotiate in good faith, without further delays, with Ed Lewis to facilitate the building of "The Easy Street Project" which will bring more people into the Town Center and act as a catalyst for economic development.

~ Fund and support the building of a Cultural Center that may include Arizona State University's (ASU) Art Museums, Film, Media, and Theater Departments and the Heard Museum (HM) to attract visitors, shoppers, and other businesses. Ed Lewis has offered land to build a Cultural Center with parking in a timely manner (instead of years from now) so that he, in turn, can get started on his project.

~ Fund and support architecturally attractive "way-finders" to attract visitors, shoppers and other businesses into the Town Center as suggested by the ULI Team this past Spring.

~ Use remaining Town funds for economic development "skin-in-the-game" as recommended by ULI – for architecturally attractive "connectivity" throughout the Town (the same sidewalk with overhead shade, misters, pots, flowers and a sound system) to attract visitors shoppers and other businesses and connect with our disparate shopping areas (Carefree Plaza, Mariachi Plaza). Should we be so lucky as to have a parking problem in the future, the Town may have funds available.

~ Use the Town monies wisely for the above-listed items FIRST, and THEN think about spending funds or going into debt (hundreds of dollars per square foot) on the "Town Hall Council Chambers" and "Meeting Rooms for 501c3's" (who already have meeting rooms) and a local theater. Spending Town monies on Council Chambers, meeting rooms, and a local theater DOES NOTHING to bring in significant visitors, shoppers or other businesses. We understand the Town can continue its lease in the post office building for MUCH less per square foot.

Please, feel free to TALK to US. Of course we want a Cultural Center, but one that brings SIGNIFICANT visitors and shoppers and is more sustainable. We realize the Town has limited funds. The Town residents realize that the BUSINESSES help fund their Town services-roads, police & fire protection. The residents WANT a vibrant Town Center to visit and take their friends and family to visit. WITHOUT supporting the BUSINESSES, who support the RESIDENTS a PROPERTY TAX is next!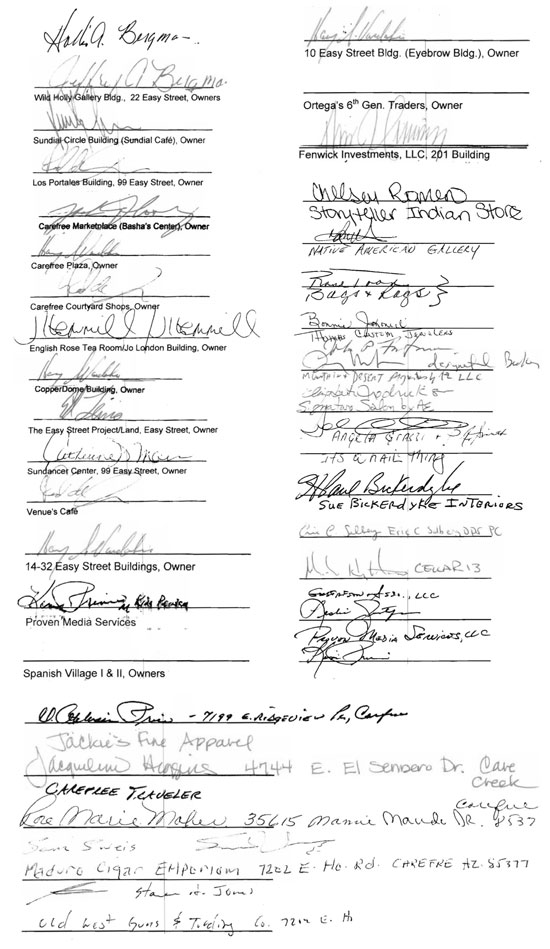 Shame on Carefree
Carefree's failure on 9/11/14 to fly the Town Hall/Visitor Center flag at half staff dishonors all those killed on 9/11 as well as all service members who have fought and died defending our country's freedom. Also ignored by Carefree are the thousands suffering from PTSD and those who have committed suicide as a result. Shame on Carefree.

Nancy Totman
Scottsdale
Socialists in both national parties
If there is someone I despise as much as the run-of-the-mill Socialist-Democrat, it is the self-proclaimed "Republican" who lends his active support to Socialist candidates.
Grant Woods, why don't you cross over to the Socialist-Democrat party once and for all? You are a disgrace to the Republican Party you claim to support. When you go, please take RINOs McCain and Flake with you.

J-P. A. Maldonado – Independent voter
Prescott Valley
Cave Creek pride – what an honor!
Sept. 10 was a great day! The PRCA called to let us know that the Cave Creek Fiesta Days Rodeo, Cave Creek, AZ #667 received the nomination for 2014 PRCA Small Rodeo of the Year! What an honor to be shared with every committee member, volunteer, sponsor, advertiser, the Town of Cave Creek, Cervi Brothers Rodeo, contract personnel, PRCA & WPRA contestants, media partners and our pro rodeo fans! THANK YOU to all card holders that voted for Cave Creek... we are so grateful for your support!

Traci Casale, President
Cave Creek Pro Rodeo
Sheriff Arpaio's birth certificate "investigation" apparently brought in $7 – 8 million in donations

According to Randy Murray of Randy Murray Productions in Phoenix, Arizona, sources close to Maricopa County Sheriff Joe Arpaio's 2012, re-election campaign, revealed that Arpaio's birth certificate "investigation" brought in an estimated 7 to 8 million in re-election campaign donations. The "investigation" was begun at the request of the Surprise Tea Party Patriots. I, with the support of my wife Denise, developed the idea for the investigation to determine the truth about the authenticity of the Barack Obama birth certificate. The campaign donation information was told to us today by Mr. Murray, at a private screening that he invited us to attend at his studio. Denise and I previewed Murray's new film documentary about Sheriff Joe Arpaio, entitled, "The Joe Show."

"The Joe Show" is a film about how Sheriff Arpaio and his handlers have utilized the power of the media to create the persona of the self-anointed, "Toughest Sheriff in America." The documentary also shows what happens to good law enforcement when priorities at the top become blurred. It is also a film about how the major media has dropped the ball when entertainment becomes the focus of its reporting instead of the hard news of the day. It becomes clear from the film that the media, both local and national, is partially responsible for the creation of the publicity for Sheriff Arpaio, making him one of the most recognized law enforcement officials in the world.

Ten years in the making, and having complete access to Sheriff Arpaio, Randy Murray Productions condensed 200 hours of filming down to a little over an hour and a half for the final product. Most interesting and telling for us was the filmed meeting Arpaio had with his publicist, his campaign manager and a member of Arpaio's command staff. Arpaio's advisors compared him to a "clown" for doing the birth certificate investigation. Arpaio justified his position in terms of the monetary donations to be generated for his re-election campaign.

Randy Murray considers Sheriff Arpaio a friend and he told us that Sheriff Arpaio will be promoting his film, "The Joe Show." Murray also said the American Civil Liberties Union supports the "The Joe Show."

Denise and I would like to inform you that there will be several showings of "The Joe Show" during the week of October 3, 2014, at the Harkins Arrowhead Fountains 18 Theater, located just off the 101 at Bell Road in Peoria. The address is 16046 N. Arrowhead Fountains Ctr. Dr., Peoria, AZ 85382. The Harkins phone number is 623-412-0122.

For those who do not live in Arizona, please consider notifying your friends or associates who live in Maricopa County, about the upcoming presentations of the excellent film documentary, "The Joe Show."

(Of special note: Denise and I have not received any remuneration from Randy Murray or Randy Murray Productions.)
Regards,

Brian & Denise Reilly
Sun City West, Arizona
Who did DuVal vote for in the last two presidential elections?
The so called "Republicans" who support Fred DuVal need ask only one question: Who did Fred DuVal vote for in the last two presidential elections?

We are in a battle. The liberals are committed to turn Arizona into a blue state. A Democrat governor would promote liberal socialist policies just as Fred DuVal has done all his life. I believe Republicans supporting Fred DuVal should reevaluate their association with the Republican party.

Bill Crawford
Scottsdale
Don't be fooled!
Now that the Primary Election is behind us, we can be grateful for fewer mail pieces and telephone surveys, but we'll be inundated with new TV ads and radio ad spots. Don't be fooled by 30 second sound bites that often deceive and frequently mislead. There is a huge amount of information available about each of the candidates if you will just take the time to do a little research.
I'm a Republican, but am vexed by a recent Republican funded ad that brands the Democrat gubernatorial nominee as tuition-hiker while serving on the Arizona Board of Regents, seemingly an arbitrary vote. While it is true that he did vote to approve tuition hikes when serving on the board that sets the rates, what goes unmentioned is that he was instrumental in keeping the doors of our universities open because the state legislature cut nearly a half billion dollars from their budget during the same time frame. In this case the Democrat could certainly be credited with helping the universities through very difficult times.
This is not to advocate for one or the other candidate, but to urge everyone to find out a bit more than bumper sticker intellect before casting your vote. There is usually more to the story.
Thank you,
Al Brown
Cave Creek
May be legal but it "smells"
In the latest financial reporting period (6/1-8/14) the eight candidates for Scottsdale City Council spent a combined $85,158 to promote their campaigns. All of this money came from individuals, properly reported according to law with name, address and occupation of each donor.

In the same reporting period a political committee, "Scottsdale United," chaired by a zoning attorney, spent $81,458 to promote three candidates, Milhaven, Robbins and Peterson, and to attack their opponents anonymously.

"Scottsdale United" reported that all of its donations came from a single entity known as "Scottsdale Strong, Inc." Since Scottsdale Strong, Inc. is organized as a non-profit, none of their donors are identified.

This may be legal but it "smells"!

What makes this "smell" is not just the large amount of money, but the fact that the donors who indirectly funded the campaign program of Scottsdale United are NOT named. Anonymous donors, with no dollar limitation, are trying to influence city council elections in Scottsdale.
Candidates benefitting should renounce this campaign maneuver. This is "dark money" and should have no place in Scottsdale!

We, as citizens, should know before we vote: Who are supporting these candidates anonymously and why – What do these donors have to hide? – And what do the donors expect in return?

Arthur W. DeCabooter
President Emeritus
Scottsdale Community College
Back
Everyone should not vote
Justice Sandra O'Connor is wrong in her Sept. 7 Arizona Republic editorial "Strength of our democracy relies on individuals turning out to vote" when she states that "It is essential that all citizens vote." She seems to forget that governments are formed to protect liberty and that this is their only legitimate role. We should not encourage citizens to vote who want government to perform improper roles such as wealth transfer, or running the health care system, or running the education system, or preventing people from working by licensing laws, or enacting job killing measures like minimum wage laws, or any of the other innumerable improper functions that some people will use the voting process to promote.

Justice O'Connor starts out on the right track in her editorial when she emphasizes the "importance of every citizen's right to vote" but she starts to get off the track when she claims that voting "is not just a right but a civic duty." It is illogical to encourage people to vote who are not voting to enhance and further the proper functions of government.

Roy Miller
Phoenix
Back