SEPTEMBER 17, 2014
DFT's "The Dracula Rock Show" promises fun for entire family Oct. 3-12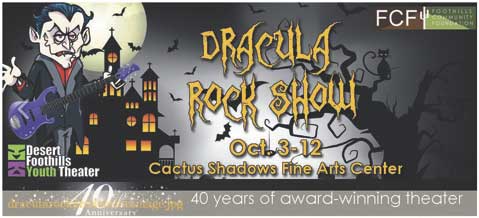 SCOTTSDALE – Desert Foothills Theater (DFT), a division of the Foothills Community Foundation, continues to celebrate its 40th season with its first youth theater production of the season, The Dracula Rock Show, set for Fri., Oct. 3 through Sun., Oct. 12 in the intimate Black Box Theater of Cactus Shadows Fine Arts Center, 33606 N. 60th Street, in North Scottsdale.

Written by Malcolm Sircom and directed by Lizzie Baggleman, The Dracula Rock Show features a cast of 20 talented performing artists ranging in age from eight to 14. The hilarious plot, eccentric characters and a dynamic score embracing 60s rock and 70s disco music will be entertaining for audience members of all ages.

When the zombies and vampires tire of being cooped up underground, their master Count Dracula has a great idea: They'll all go to rock concerts where no one will even notice them.
But when Inspector Shirley Holmes and pathologist Dr. Watson become intrigued by an outbreak of anemia in young women, things take a turn for the worst (if there is anything worse than being a zombie).

Over the years, Desert Foothills Theater has increased its commitment to providing educational opportunities for young actors throughout the north Valley. The non-profit recently added a fourth location for classes and workshops at the Episcopal Church of the Nativity on Miller Road in order to provide easy access for families living in the Sonoran Hills, Grayhawk, DC Ranch, Tatum Ranch, Desert Ridge and other nearby communities.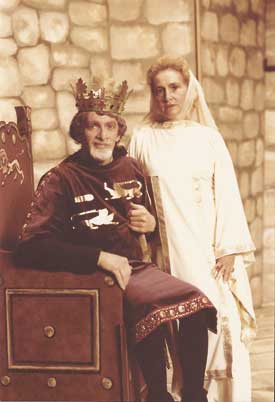 Meribeth Reeves, DFT's managing director, said the theater is especially proud of how far it has come since it was founded in 1975 by Anne and Carl Nusbaum (left). "In four decades, we've weathered two significant recessions, we moved three times, we've expanded our services to include youth productions, classes and workshops, and our fabulous family of actors, musicians, stage technicians, choreographers and volunteers who have helped us earn many prestigious ariZoni and National Youth Arts awards keeps growing."

Performances for The Dracula Rock Show are at 7 p.m. Friday and Saturday and at 2 p.m. on Sunday. Tickets range from $16 to $21 for adults and $12 to $16 for youth and students. Visit www.dftheater.org or call 480-488-1981.