BY MARIELLE D. MARNE | SEPTEMBER 17, 2014
Senior living at Desert Flower fosters independence and fun!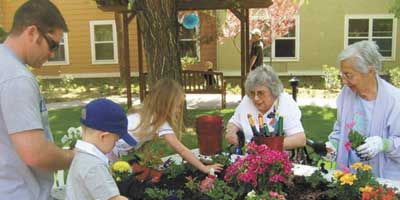 SCOTTSDALE – Perhaps it's the stellar reputation, or maybe it's the fact the returning snowbirds are eager to check out this senior living community, but whatever the multitude of reasons, Desert Flower Assisted Living and Memory Care Center is receiving a lot of interest of late.

"One of the aspects our residents love is our park-like setting," offered Jo Bailey, community relations director. "We have a beautiful courtyard and residents really enjoy sitting out there. We put chairs out on the lawn, they play trivia and cards. We even have a gardening box. There are endless activities, including ice cream socials and pet therapy sessions."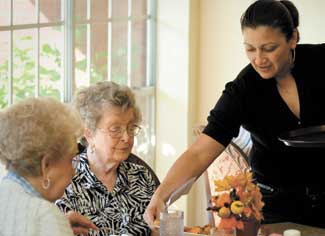 Of course, it's a lot of fun and games at Desert Flower, but each and every one of the trained staff takes his/her job seriously. What they strive to do when possible is assure residents their independence and that they remain active. They can come and go as they please (some still drive), but staff members are mindful of their guests' habits, so if Sally fails to come down for breakfast by 10 a.m., that may warrant a wellness check. Likewise, if Phil isn't back from his walk by 3 p.m., someone will retrace his regular route. Personnel take a personal interest in those living at Desert Flower. It's not just a job, they consider themselves among extended family. Bailey shared the sentiments of everyone employed there: "I love seniors and can't imagine not working around them. They really are amazing walking history books. It's such a treat to sit down with them and hear their stories."

So if you are at the age you no longer want to tend to a large family home, or you think mom and/or dad may need an extra set of eyes on them, call Desert Flower Assisted Living / Memory Care Center at 480-657-9000 to schedule a tour at 9185 E. Desert Cove. Additional details may be found at www.desertflowerseniorliving.com.