BY LINDA BENTLEY | SEPTEMBER 10, 2014
Council clashes on cultural arts 'investment'
'Ed Lewis is very successful and the town should be behind him every step of the way except financially'
CAREFREE – During the Current Events segment of last Wednesday's council meeting, Mayor David Schwan reminded everyone the MAG presentation of the Cave Creek/Carefree Transportation Framework Study would be held at 6 p.m., Wednesday, Sept. 10 in the Carefree Council chambers.

Schwan said the Nov. 4 town council meeting is being moved to Wednesday, Nov. 5 due to elections

He also announced the Kiwanis of Carefree will be holding six ticketed concerts on Saturday evenings at the Sanderson Pavilion. Schwan said people may contact Kiwanis directly for more information.

Town Administrator Gary Neiss introduced changes to the town's fireworks ordinance so the town will be in compliance with recent legislation.

New legislation extended the periods fireworks sales and use be permitted around New Year's Day and Independence Day. The legislature also reduced the penalty for illegal fireworks use to a civil offense, while increasing the fine from $750 to $1,000.

Council voted unanimously to update the town ordinance to comply with statute and waved the second reading.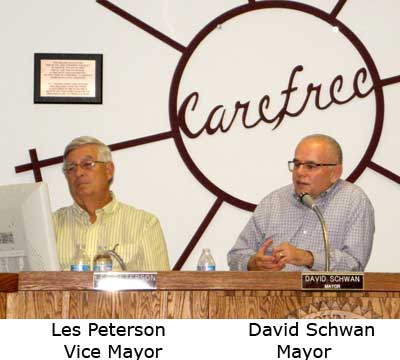 Vice Mayor Les Peterson provided an update on his committee's ongoing cultural and economic development discussions to grow the town's tax base.

Stating the town's lease on the council chambers will expire in June 2016 and the building's owner has told them they may only renew if they also lease the old municipal court space.

Councilwoman Melissa Price said the town could sublease that space.

Peterson also spoke about the Ed Lewis condominium and retail project in the town core being contingent upon there being some sort of attraction to draw people there.

He referred to the "Baker Project," which appears to be a study being conducted by consultants hired by the town, and said they were working on how signage will direct people to downtown, supplemental to downtown events.

Peterson said they were trying to generate year-round traffic to the town on a regular basis.

As far as their lease is concerned, Peterson said they will either need to extend their lease at $4,100 per month, which he stated would have no residual benefit, noting their contract states they cannot sublease.

Price said the owner told her they could sublease.

Schwan said the owner told him they could not, which is also what it says in their contract.

Peterson said the owner wants $50,000 per year and said, "I have to pay my mortgage."

Peterson said another option would be to build new council chambers on the town's property as an addition to the Sundial building.

He said costs were estimated to run $1.4 to $1.5 million for a 5,000 square-foot addition.

According to Schwan, the 5,000 square feet would include council chambers, storage area, lobby, community meeting room and restrooms.

Peterson said in order for the Ed Lewis project to move forward, as Lewis told the town 18 to 24 months ago, he wants more excitement downtown before he builds.

Original plans included bringing an annex of the Phoenix Art Museum and/or the Heard Museum to Carefree.

Lewis proposed building 10,000 square feet to house exhibits and selling it, incrementally, to the town at his cost as the town received revenue from condo sales.

However, as Schwan pointed out, the plan became moot since both museums said, "No thanks."

As discussions ensued with ASU, which seemed to have an interest, Peterson said it turned out ASU was talking about presentations and programs, not a museum.

The Foothills Community Foundation (FCF) subsequently opened discussions with the town about Desert Foothills Theater (DFT) possibly being a part of the town's council chambers addition by including a theater where they could hold community and professional theater performances, educational classes and movies.

Peterson said FCF has a 40-year track record in the community and has been the incubator for numerous other offshoots, such as DFT, Musicfest, Foothills Caring Corps, Desert Foothills Land Trust, Foothills Food Bank and more.

According to Peterson, FCF is willing to move forward with establishing DFT in the town and are prepared to move the fastest, whereas ASU, although possibly interested, could take years.

He said ASU could become a component of the project without making a full commitment.

Peterson said they were discussing a single facility of 10,000 to 15,000 square feet to house council chambers with 90 seats and a 230 to 240 seat theater.

He said the lot behind Venues is vacant and the town could possibly acquire it for parking, which Neiss said, depending on how it's configured, could provide 60 to 80 parking spaces.

Because the town does not want to deplete its reserves, Peterson said it could borrow at very favorable rates and the cost would be about the same as leasing, only at the end of 20 years the town would own the facility.

Payments could be made from the payments received from the water company on its loan.

Schwan said the facility would be like a community center focused around the performing arts.

Peterson said this was all in preliminary discussions and they have not discussed costs. He said ASU is not ready to go but FCF is.

Schwan said a volunteer architect is working on dome ideas but they didn't have any numbers yet.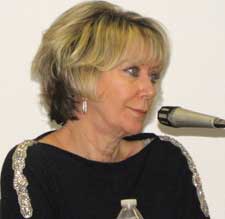 Councilwoman Melissa Price (l) suggested the town consider another option because she didn't believe a town hall or meeting rooms will bring shoppers to the town center, nor does she believe a theater will bring significant traffic and revenue.

She stated, "We don't need to go into debt. I don't think it will contribute to economic development."

Price suggested they continue leasing for $15 per square foot instead of going into debt to build at $150 to $350 per square foot.

Councilman Mike Farrar commented on the historically low interest rates right now that could be taken advantage of.

Councilman Glenn Miller said he'd rather see something like a restaurant in the space council is presently in that produces revenue.

Farrar responded, "This is a very challenging building," and said the post office was pretty much the only reason people come there.

During public comment, Lyn Hitchon said she spoke to Greg Gardner after the last meeting to clarify what he said.

Stating it was difficult to understand what he was trying to say, Hitchon said Gardner told her he wasn't for or against the theater and just wanted the town to do its due diligence.

She asked what future rent was going to look like if the town continued leasing and if the rent would go up when the lease was up in 2016.

Neiss said there were increases tied to an inflation index in their lease agreement.

Jim Van Allen stated, "This room is 1,500 square feet," and asked, "Why do we need 5,000 square feet for new quarters?"

He said, "Ed Lewis is very successful and the town should be behind him every step of the way except financially," adding, "That's not how the town should be run."

On Friday, the town sent out an e-mail request to area residents to participate in a survey, which it said was "part of a comprehensive Town Center master plan and market analysis that will be used to identify opportunities to attract and retain the types of businesses that are appropriate for Carefree and the surrounding community."

The survey asked what types of businesses people would like to see in the town center with answers that included restaurants, theater, brew pub, shops that sell used items and others.

Among other things, it asked if respondents were year-round Arizona residents and their zip code.