SEPTEMBER 10, 2014
MusicaNova opens season with Elgar's "Viola" Concerto on October 26
Stunning soloist Milena Pjaro-van de Stadt makes her début with adventurous orchestra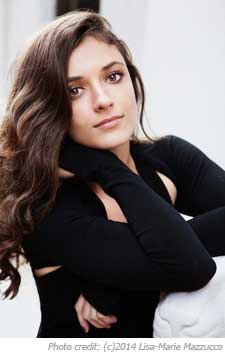 PHOENIX – Committed to performing jewels of unique and undiscovered classical music, MusicaNova opens its season with the début of stunning violist, Milena Pajaro-van de Stadt (l) performing Elgar's "Viola" Concerto. Originally written as a piece for cello, famed violist Lionel Tertis transcribed Elgar's Concerto in E minor, Op. 85 for the viola in 1918.

Pajaro-van de Stadt, a New York native, is a member of the Dover Quartet, with whom she won several international competitions for her artistry.
She performs internationally in recitals and chamber music concerts throughout North America, Latin America, and Europe, including her acclaimed 2011 début recital at London's Wigmore Hall. Drawn to the viola for "its "lower, darker, more human sounds," she fell in love with it when she began playing the instrument in a string quartet as a high school junior.

Also on the program is Tchaikovsky's brilliant Orchestral Suite No. 2, which premiered in Moscow in 1884. Conducted by Music Director Warren Cohen, the piece is noted for its vibrant range of tones and its cheerful melodies, conjuring images of Russian folk songs.

Elgar's "Viola" Concerto will be performed October 26, 2014 at 4 pm at Central United Methodist Church, 1875 N. Central Ave. (Central Avenue at Palm Lane, in the Phoenix Central Arts District)

Tickets to Elgar's "Viola" Concerto are $20 adults/$15 students and seniors, and are on sale now at www.musicanovaaz.com. Youth under 18 are free with a paid admission.

The MusicaNova Orchestra is a professional ensemble whose concerts feature music played with the utmost virtuosity and unrivaled interpretation. Led by Music Director Warren Cohen, the Orchestra challenges itself with new works, neglected works that should be heard, new interpretations of the classics, and new collaborations with partners in instrumental and vocal music, as well as other arts and cultural fields.

MusicaNova regularly features young chamber musicians, exceptionally talented solo and ensemble performers and works by brilliant young composers. Its Young Artists Series at Arizona Piano Company's Recital Hall and partnerships with area schools bring the joy of playing and hearing great music to many who might not otherwise have the opportunity.