SEPTEMBER 10, 2014
Scottsdale Grand Canyon Chapter DAR honors Constitution Week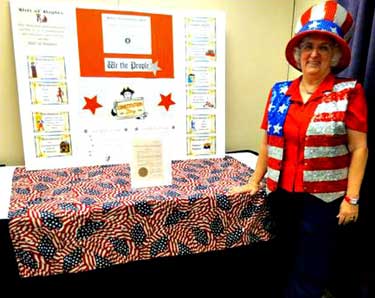 Grand Canyon Chapter DAR Constitution Week Committee Chairman, Nancy K. Arnold, with her poster and proclamation for Constitution Week, September 17-23, signed by Governor Jan Brewer.




Scottsdale-chartered Grand Canyon Chapter Daughters of the American Revolution (DAR) held its first fall meeting Saturday, September 6 at Chaparral Suites Resort, Scottsdale.

A focus of the meeting was to commemorate Constitution Week, September 17-23. The tradition of celebrating Constitution Week was started by the DAR, and in 1955 the Society petitioned Congress to set aside September 17-23 annually for its dedication. A resolution was adopted by Congress and signed into Public Law 915 in 1956 by President Dwight D. Eisenhower for its national observance.

Shown here is Grand Canyon Chapter Constitution Week Committee Chairman Nancy K. Arnold with her self-designed poster and a proclamation for Constitution Week, signed by Governor Jan Brewer. Ms. Arnold, dressed in patriotic costume, will take the poster to local schools to share with students during the week's celebration. She is also the author of Patriotic Pups, an Arizona Book Award winner in children's fiction which describes adventures of a group of puppies that play witness to important events in the American Revolution. Ms. Arnold's sequel to Patriotic Pups, titled Pioneer Pups, is currently at the printer's. She makes author's historical/patriotic visits to schools, libraries and civic organizations.

The National Society Daughters of the American Revolution was founded in 1890 to promote historic preservation, education and patriotism. Its members are descended from patriots who won American independence during the Revolutionary War. Commitment to volunteer service is a cornerstone of the organization.

To learn more about the work of today's DAR and Scottsdale's Grand Canyon Chapter, visit www.DAR.org and http://grandcanyon.arizonadar.org.

The next meeting of Grand Canyon Chapter is October 4. Guests are welcome. For reservations contact Regent Kathy Shields at 602-820-5427 or dargrandcanyon@gmail.com.