SEPTEMBER 3, 2014
Aspiring Eagle Scout sets his sights on enhancing Food Bank's inventory
CAVE CREEK – Caring about your neighbors – even those you don't yet know, is part of being human. For Jason Ritter (below), a Troop 439 Life Scout from Desert Hills, Ariz., who is working towards Eagle status, giving back to a local food bank is a personal choice for his Eagle project.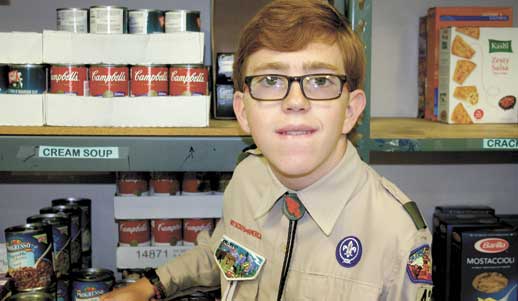 Ritter, age 15, decided to plan a food drive to help stock the food inventory shelves at the Foothills Food Bank and Resource Center, which is located at 6038 E. Hidden Valley Drive in Cave Creek, Ariz. Working closely with David Newman, volunteer food drive coordinator, and Pam DiPietro, the food bank's executive director, he now is finalizing details for the drive.

"I want to make people in the area aware that we not only need to help poor, hungry people during the holidays, but we also need to help them all year long," says Ritter. "A dollar goes a long way."

Ritter, in conjunction with the food bank, will hold the food re-stocking drive on September 27, 2014 from 9 a.m. – 2 p.m. Residents are encouraged to bring pasta sauce, peanut butter and jelly, canned tuna, juice, canned beans for cooking, canned vegetables, sugar, tea, coffee, powdered milk, condiments, bars of soap, shampoo, toiletries.

Donations can be dropped of on Saturday, September 27, 2014 at Fry's: 4185 E. Carefree Highway, Cave Creek, Ariz., 85331 and 29455 N. Cave Creek Road, Cave Creek, Ariz., 85331. So, join the drive. And, support one young's man goal to soar like an eagle.