BY LAURYN HALVER | SEPTEMBER 3, 2014
A sneak preview of the Cave Creek Museum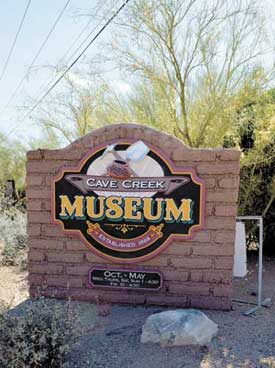 CAVE CREEK – At the Cave Creek Museum, several new exhibits are being installed before opening in October, including a washing machine exhibit.

Right now many of the baskets and pottery being prepared are being put through a 3-2-3 system. This means three days in a freezer, taken out for two days, and three days back in to kill any microorganisms that may be living on/or in the pieces before they are put on display.

In the front room, artwork done by Virginia Brooks will be displayed as their "featured artist." Readers will be familiar with Brooks' "Come Paint With Me," private and semi-private painting lessons where the client works side-by-side with her.

The Cave Creek Museum is partnering with Michael and Tina Quaintance, who are loaning the museum saddles for the new "Saddle Up" exhibit.

The Salt River Pima Maricopa Indian Community is contributing to the "Arizona's Greatest Battle" exhibit.

The season, which runs through May, kicks off as the museum reopens from 1 – 4:30 p.m. on Wednesday, October 1. In addition to Wednesdays, hours are Thursdays, 1 – 4:30 p.m., Fridays, 10 a.m. – 4:30 p.m. and Saturdays and Sundays, 1 – 4:30 p.m. Cave Creek Museum is located at 6140 E Skyline Drive in Cave Creek.

Donations to help the museum preserve the historical heritage of the Desert Foothills are always needed and deeply appreciated. To make donations and for more information call 480-488-2764 or visit http://cavecreekmuseum.org.

In addition to preparation to reopen on October 1, the Cave Creek Museum is participating in Smithsonian Magazine's "Museum Day Live!" on Saturday, September 27 from 1 – 4:30 p.m. A Museum Day Live! ticket provides free admission for two people.

In the spirit of Smithsonian Museums, who offer free admission everyday, Museum Day Live! is an annual event hosted by Smithsonian magazine in which participating museums across the country open their doors to anyone presenting a Museum Day Live! ticket … for free.

To receive your free Museum Day Live! ticket, for two people only, register and then request a ticket to a participating venue (www.smithsonianmag.com/accounts/register/). The ticket will be available to download immediately up to the date of the event. You must print your ticket and present it to a participating museum to receive your free admission or have it accessible on your mobile device. For a list of participating museums visit www.smithsonianmag.com/museumday/.

As a gift for participating in Museum Day Live!, you will receive the digital edition of Smithsonian magazine free for one year with no obligation, beginning with the October edition, from which you may opt out at any time.