SEPTEMBER 3, 2014
AZ Archaeology Society – Desert Foothills
presents Wayne Ranney September 10
Martha Summerhayes was well-educated traveler from Massachusetts who married Lieutenant John Summerhayes. Martha joined John at various posts in the Arizona Territory beginning in 1874. Their first child, Harry Summerhayes, was born at Fort Apache during times of governmental conflict with the Apache and may be the first Anglo child born at Fort Apache. As a refined New Englander, one can imagine Martha's first impressions of the southwestern environment and harrowing experiences in the untamed 1870s landscape. Eventually, Martha Summerhayes learned to appreciate the harsh arid desert environment and embrace the charms such an environment has to offer. Later in 1911, her memoirs were published in a book titled Vanished Arizona.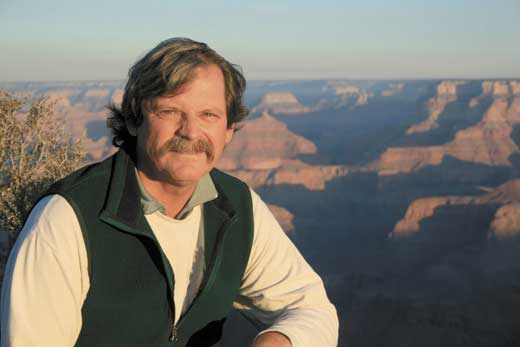 Wayne Ranney (above), an Arizona Humanities speaker, is a kindred spirit as a geologist, author, river and trail guide on the Colorado plateau. He will present "In the Footsteps of Martha Summerhayes" and reveal his connection to her.

A former back country ranger in the Grand Canyon, Wayne earned his bachelor's and master's degree from Northern Arizona University in geology. Wayne Ranney is a geologic lecturer with travels to 75 countries. He is still active as a trail guide in the Grand Canyon for Grand Canyon Field Institute and Museum of Northern Arizona. He teaches geology at Coconino Community College in Flagstaff and leads field trips throughout the American Southwest. He is the author of six books and contributing writer to Sedona Magazine and Arizona Highways.

The general public may attend an Arizona Archaeology Society – Desert Foothills Chapter meeting at no charge, except for the holiday party in December. The AAS-DFC meetings are held on the second Wednesday of each month, September through May. There are refreshments available at 7 p.m. and the meeting begins at 7:30 p.m., usually ending prior to 9 p.m. The meetings are held in the community room (Maitland Hall) at The Good Shepherd of the Hills Episcopal Church, 6502 East Cave Creek Road, Cave Creek, AZ 85331.

Visit www.azarchsoc.org/desertfoothills.