SEPTEMBER 3, 2014
With great pride we announce that AFTER THE HOMESTRETCH-AZ has been designated the Thoroughbred Charities of America (TCA) charity of the month. TCA is the premier funding source for grants to thoroughbred rescues in the United States and is the charitable arm of the Thoroughbred Owners and Breeders Association.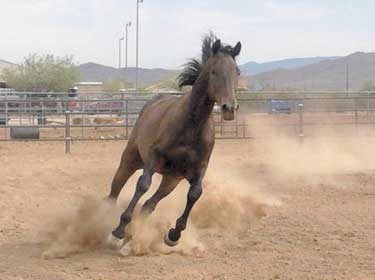 Since their inception, in July 2011, they have rescued 37 horses, 35 ex-racehorses and 2 colts. They have found homes for 23 horses and now have 14 horses in their current herd ranging in age from 3-18. Most of the horses at ATHA are sons, daughters, grandsons and granddaughters of racing legends such as Secretariat, Seattle Slew and Storm Cat. Horses arrive at ATHA from a variety of avenues whether it's directly from the track, to owners who can no longer care for them to being found wandering the desert by the Arizona Department of Agriculture. Some come to them in a healthy state ready for their second career while others arrive at the ranch injured, underweight and neglected. ATHA provides ex-racehorses the opportunity to rest, have their veterinary needs addressed, and general rehabilitation to ready them for a non-racing adoptive home.

After the Homestretch AZ is a 501c3 non-profit that is a 100 percent volunteer run organization. A majority of our horses are stabled at our ranch located at Maddock and 12th Street in Phoenix (off the Carefree Highway).

For more information please call 623-205-8528, follow them on Facebook at www.facebook.com/afterthehomestretcharizona, Twitter @homestretchAZ or visit www.afterthehomestretchaz.org.