SEPTEMBER 3, 2014
Four generations of DAR members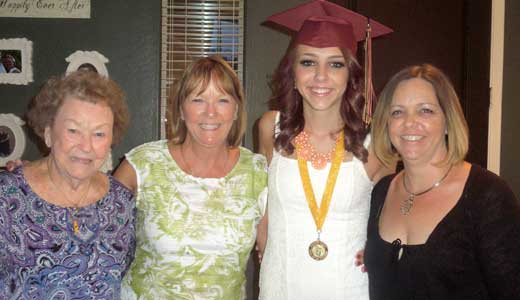 The Black Mountain Foothills Chapter of the Daughters of the American Revolution recently accepted a fourth generation member into their chapter. Taylor Madison Pegg became a member in early June. She is preceded by members Mildred Virginia Oxford, her great-grandmother, Jeri Oxford Lyon, her grandmother, and Jennifer Fisher Hernandez, her mother.

The Daughters of the American Revolution is a nonprofit, nonpolitical volunteer women's service organization dedicated to promoting patriotism, historic preservation, and education. It is open to any woman 18 years or older regardless of race, religion, or ethnicity who can prove lineal descent from a patriot of the American Revolution. To learn more about DAR visit www.DAR.org.

If you would like more information about becoming a member of the Black Mountain Foothills Chapter which serves Cave Creek, Carefree, North Scottsdale, and North Phoenix please contact Sarah Ziker at bziker@aol.com.