SEPTEMBER 3, 2014
Soroptimists sponsor 'Bobcat's Closet'
You can be of help
CCUSD – Soroptimist International of Saguaro Foothills (SISF), a service organization for women, has again taken on another local project – "Bobcat's Closet."

Bobcat's Closet is located at Black Mountain Elementary School (BMES) and was an unused classroom recently converted to a retail-type environment.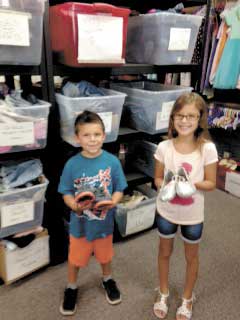 Bobcat's Closet is filled with new and nearly-new school clothes for children of all ages from anywhere in the Cave Creek Unified School District (CCUSD).

The concept for Bobcat's Closet came from Matt Owsley, Principal at BMES, who wanted to partner with a local organization to organize and staff the project. BMES started collecting clothing for those families who can benefit from a little help outfitting their children for school. The bobcat is the official mascot of BMES, thus the name "Bobcat's Closet."

Karen Tuffs, CCUSD Board member and Soroptimist member states: "We have received over $2000 in brand new items to mix in with the gently-used donations from our community. The response has been wonderful."

Carol Zelaya, President of Soroptimist Int'l of Saguaro Foothills adds, "Any help with funding or clothing is so deeply appreciated, not only by the Soroptimist club and all those at BMES, but by the families and their children. There is a huge need for this service as demonstrated by the heavy use of Bobcat's Closet. It's such a great feeling to help a young person feel good about themselves as they enter those school doors every day."

For a schedule of shopping hours or to set up a private appointment for a discretionary shopping experience, please contact BMES at 480-575-2100.

In order to make donations of new or gently-used clothing or monetary donations (used to supplement sizes and needs not met by clothing donations and to purchase personal items such as socks and under garments), please contact Karen Tuffs at 480-221-8623.