BY MARIELLE D. MARNE | SEPTEMBER 3, 2014
Summit Diner, where pancakes are as popular as pasta for supper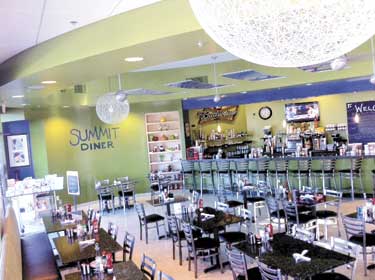 SCOTTSDALE – With a name like Summit Diner owner Joe Kapidani presumes customers will have high expectations. And with his two year anniversary upcoming in October, he's delivered on those culinary anticipations and has served home-style meals that are fresh and healthy, coupling it with his motto: Anytime is the right time to order anything. "We still serve more breakfasts for dinner," he explained.

Kapidani keeps his regulars happy, of which there are many. Currently he has 3600 members signed up for his VIP Club. (Spend $60 and get $10 off next meal. Members also earn free birthday and/or anniversary entrees up to $11.) More details at www.summitdineraz.com.

Every item on the Summit Diner menu has a following, but for a limited time, Kapidani has added some summer dinner specials. Before it's too late, try the Beef Stroganoff, salmon on corn cake or pierogies! Wednesday is Mexican Taco Night. Thursday and Friday are probably the best all-you-can-eat deals around! Kapidani offers buttermilk fried chicken on Thursdays and fish and chips on Fridays. The plates brim over with chicken or fish (wild caught Alaskan cod), depending on the day, so rarely do diners have room for seconds. But it's included in the all-you-can-eat price if you do.

In addition to ordering anything anytime you want, Kapidani strives to treat his guests like family with large portions that are healthy, even tailored to taste as requested. "That's one of the benefits of getting to know our diners. Sometimes someone will forget to ask for something on the side or maybe leave out onions. The servers and cooks often recognize the order and might say, 'Oh, he doesn't want tomatoes, right?' It's like family, or friends."

They stay active in the community as well, and on Sept. 6 will host the Greater Pinnacle Peak Association's 2014 Summer Fun Nelssen Photo Contest and the 2014 Summer Fun Write Stuff Contest Winners evening, which will raise money to help maintain the Desert Foothills Scenic Drive.

Summit Diner is located at 32531 N. Scottsdale Rd. Open seven days a week, 6 a.m. – 9 p.m., phone 480-575-6562 for directions.