AUGUST 27, 2014
Monsoon endangers young wildlife
Fawn found in Scottsdale and baby skunk rescued as it floated down flooded street in Surprise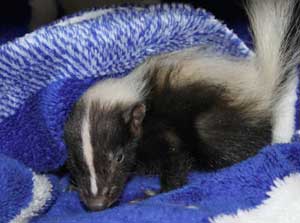 SCOTTSDALE – The August 19 monsoon endangered Valley wildlife, including a mule deer fawn and a baby skunk that were rescued from flooding. Both are very young and need the expert care of wildlife rehabilitators at Southwest Wildlife Conservation Center (SWCC) in Scottsdale.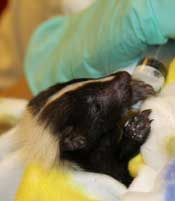 The baby skunk has been named 'Monsoon,' and was found in Surprise floating down the street last night. He was rescued by a resident of the neighborhood. SWCC picked him up early this morning. SWCC staff say they were concerned about his survival because he is so small, but he is now eating and appears to be doing well.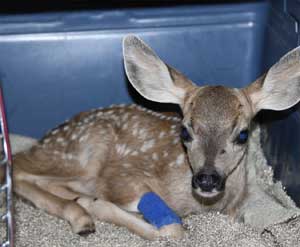 The mule deer fawn, just a few days old, was rescued from a swollen wash by maintenance workers at Desert Mountain golf course in north Scottsdale. The fawn's mother could not be located, so SWCC was called to take care of it. The fawn is now eating from a bottle at the sanctuary.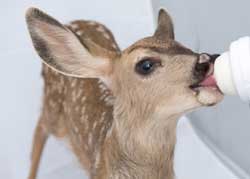 Southwest Wildlife Conservation Center is a non-profit sanctuary that rescues and rehabilitates native and other wildlife for return to the wild whenever possible. If animals cannot returned, it operates an accredited sanctuary and cares for animals including bears, mountain lions, deer, coyotes, wolves and others for life.



Donations to assist in the animals' care are needed. Please visit www.southwestwildlife.org