BY LINDA BENTLEY | AUGUST 20, 2014
Cave Creek woman indicted on federal corruption charges
'Rooting out public corruption remains one of the FBI's highest priorities'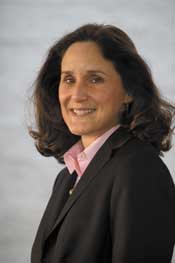 CAVE CREEK – Last week a federal grand jury handed down a 16-count indictment against Karen Finley (r), of Cave Creek, former CEO of Phoenix-based Redflex Traffic Systems, Inc., alleging she provided John Bills, the now-retired city of Chicago official, with approximately $570,000 cash and other benefits in exchange for inside information that would assist Redflex in obtaining, keeping and expanding its Chicago red light contracts that blossomed into $124 million.

The indictment asserts Finley and other officials at Redflex arranged to funnel the cash and other benefits to Bills through his friend Martin O'Malley, whom it hired as an independent contractor, and who funneled a good portion of his $2 million in compensation on to Bills.

Finley, 54, who was Redflex's chief CEO from late 2005 through February 2013 and previously its vice president of operations since 2001, was charged with nine counts of mail fraud, three counts of wire fraud, three counts of federal program bribery and one count of conspiracy to commit federal program bribery.

O'Malley, 73, of Worth, Ill., hired as an independent contractor with Redflex from 2003 to 2012, was charged with one count of conspiracy to commit federal program bribery.

Bills, 53, who was arrested in May and released on his own recognizance, was indicted on nine counts of mail fraud, three counts of wire fraud, three counts of federal program bribery, three counts of filing a false federal income tax return, and one count each of extortion and conspiracy to commit federal program bribery.

Bills, 53, a 32-year city employee who retired on June 30, 2011 as the managing deputy commissioner of the Chicago Department of Transportation, served as a member of the red light camera contract evaluation committee.

The 45-page indictment tells a story of how Bills and Finley allegedly schemed to defraud the city of money and Bills' honest services between 2002 and 2012 by providing Bills with cash, checks and other benefits, including meals, hotel stays, rental cars and golf outings.

Honest services fraud refers to a sentence added to the federal mail and wire fraud statute in 1988, which states: "For the purposes of this chapter, the term scheme or artifice to defraud includes a scheme or artifice to deprive another of the intangible right of honest services."

The Supreme Court of the United interpreted the statute to only cover "fraudulent schemes to deprive another of honest services through bribes or kickbacks supplied by a third party who ha[s] not been deceived". In May 2008, O'Malley purchased a condominium for Bills in Gilbert, Ariz., which Bills visited nearly two dozen times with friends and family until the fall of 2012.

The indictment also seeks forfeiture of approximately $613,400 from all three defendants as well as the proceeds from the sale of the Gilbert condominium.

In 2003, the city initially awarded a contract to Redflex for installation, maintenance and operation of the city's first red light enforcement program, which used cameras to automatically record and ticket drivers who ran red lights.

In 2003, while celebrating the contract at a dinner in Los Angeles, Bills allegedly told an individual, "It's time to make good," which was understood to mean Bills expected to be compensated for helping Redflex win and maintain the Chicago contract.

Bills supposedly discussed how much money he wanted based on the size of the contract and suggested alternative ways to funnel benefits to him, including paying him through the newly created Chicago customer liaison position.

After that individual relayed Bills' demand to Finley and another individual, Finley allegedly directed the placement of an advertisement in a Chicago newspaper for an account manager for Redflex's Chicago contract, which Bills allegedly told O'Malley to look for and respond.

Finley interviewed O'Malley and hired him in the summer of 2003.

Bills allegedly told O'Malley he was working with Redflex on his employment contract and O'Malley would give Bills a portion of the commissions he received.

According to the indictment, between 2003 and 2012, O'Malley and Bills used a variety of methods, at Bills' direction, to transfer funds to Bills, including O'Malley withdrawing more than $600,000 in cash between 2004 and 2012 and giving Bills approximately $570,000 in cash.

Between 2008 and 2010, O'Malley wrote Bills checks totaling approximately $17,900, which Bills used to pay personal debts and expenses.

From 2007 to 2011, O'Malley wrote checks totaling approximately $5,500 to a political organization.

Between 2004 and 2008, Redflex was paid approximately $25 million under contract to install and maintain over 100 red light cameras in Chicago intersections, as well as assist in reviewing and processing violations.


Bills (r) was a voting member of the city's request for proposal (RFP) evaluation committee that recommended awarding the contract to Redflex after implementing trial runs with Redflex and another competing finalist.

In February 2008, the city awarded a new non-compete contract of approximately $33 million to Redflex to operate and maintain the previously installed cameras.

That same month, following another competitive RFP process, the city awarded a new contract to Redflex, similar to the first contract, for $66 million that resulted in the installation of nearly 250 additional red light cameras.

Bills was also an advisory member of that RFP evaluation committee.

By 2010, Chicago had the largest red light camera program in the nation, representing about 20 percent of the total camera systems that Redflex, a subsidiary of the Australian-based Redflex Holdings Ltd., operated in the United States.

According to the indictment, prior to retiring from the city, Bills allegedly made it known to Redflex employees that he was interested in a job with Redflex.

However, instead of Redflex hiring Bills, Finley and others were able to arrange for Bills to obtain a job with a nonprofit corporation – a job which lasted through the spring of 2012 – to which Redflex increased its monthly funding to help pay for Bills' salary.

From 2003 through 2011, O'Malley allegedly paid for at least $20,000 worth of personal expenses for hotel rooms, meals, golf games and computers on behalf of Bills, which were authorized by Finley and another individual and expensed through Redflex.

The indictment claims neither Finley nor Bills reported the flow of such benefits on financial disclosure or economic interest forms they each submitted in connection with the contracts and Bills' employment.

Tax charges against Bills stem from his alleged failure to report the income he received from O'Malley on his 2008, 2009 and 2011 federal tax returns.

Last week, after the grand jury returned the indictment, Robert J. Holley, special-agent-in-charge of the Chicago FBI office, stated, "Rooting out public corruption remains one of the FBI's highest priorities. Today's indictment underscores our commitment to work in a collaborative effort to promote honest and ethical government at all levels and to prosecute those who allegedly violated the public's trust."

James C. Lee, special-agent-in-charge of the IRS Criminal Investigation Division in Chicago, stated, "IRS criminal investigation ensures that all Americans, including public officials, are held to the same standard and that everyone pays their fair share of taxes."

With preliminary bail set at $4,500, Finley and O'Malley will also be permitted to sign their own recognizance bonds.

Arraignment for all three is set for 9:30 a.m. on Sept. 10 before U.S. District Judge Virginia M. Kendall in Chicago.