AUGUST 20, 2014
Desert Foothills Theater kicks off 40th season with Lend Me a Tenor running Sept. 5 – 14

SCOTTSDALE – Desert Foothills Theater (DFT), a division of the Foothills Community Foundation, is about to kick off its 40th season. "This is a very special year for us," said Meribeth Reeves, Desert Foothills Theater's (DFT) managing director. "We celebrate our 40th anniversary during this season. In four decades, we've weathered two significant recessions, we moved three times, we've expanded our services to include youth productions, classes and workshops, and our fabulous family of actors, musicians, stage technicians, choreographers and volunteers who have helped us earn many prestigious ariZoni and National Youth Arts awards keeps growing." Reeves said DFT's 2014-2015 season of shows includes drama, comedy, mystery and fabulous music.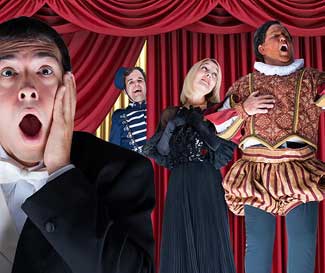 The season kicks off with an entertaining farce, Lend Me a Tenor, set for Fri., Sept. 5 through Sun., Sept. 14 in the intimate Black Box Theater of Cactus Shadows Fine Arts Center, 33606 N. 60th Street, in North Scottsdale.

This wild romp of mistaken identity, slamming doors and non-stop double entendre combine for an evening of side-splitting hilarity.

It was those comedic elements that attracted Mark Clemente to direct the show. "I love the comedy of this show and the time period the playwright decided to set the play," he said. "The show has classic comedy elements but borders on farce. And while it is not a musical, we will have a few characters sing some opera from Verdi's Don Carlo, as well as from Othello.

Timing will be a challenge to cast members, as they go in and out of doors in a constant shuffle of hiding and moving around in a two-room hotel suite. But Clemente says his cast is up for the task.

Performances are at 7:30 p.m. Friday and Saturday and at 2 p.m. on Sunday. Tickets range from $25-$32 for adults and $15-$20 for youth and students. Group sale discounts are available for groups of 10 or more. Visit www.dftheater.org or call 480-488-1981.