BY LINDA BENTLEY | AUGUST 13, 2014
Council urged to scrap theater plans
'Put this to bed,' said Van Allen, who recommended the town extend its existing lease and then determine what its needs are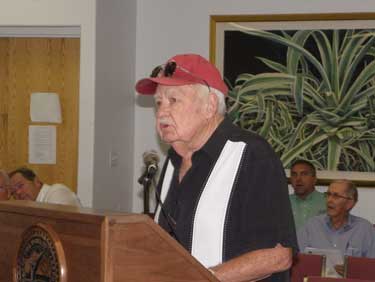 CAREFREE – Jim Van Allen spoke during Tuesday night's Call to the Public to urge council to move on and "put this theater thing to bed."

He stated Carefree had taken pride in becoming debt free and mentioned other towns that had subsidized theaters, including Fountain Hills, which he said has only 120 seats and doesn't sell out.

According to Van Allen, ticket sales also would not provide any sales tax revenue.

Van Allen said Desert Foothills Theater would only be looking at 30 weeks per year.

"Put this to bed," said Van Allen, who recommended the town extend its existing lease and then determine what its needs are.

Van Allen suggested council focus on keeping the town's stores open and taking some of the money it's been saving to put toward shade, misters and providing comfort to citizens at the amphitheater.

Greg Gardner followed and called council's attention to there being a lot of competition in the marketplace.

With Mayor David Schwan appearing telephonically, council voted unanimously to approve a $20,027 contract for services with CivicPlus for the creation, development and implementation of a new website for the town.

Town Administrator Gary Neiss said because technology has changed over the last 10 years, the town needs to update its website so it is accessible with smart phones.

He said the new website would also reorganize information to make the site more user-friendly.

According to Town Clerk Kandace French, the contract would include training and staff would continue to update information on the website, although she said with the new software it will be far less time-consuming.

Neiss said it will take about six months to complete the entire process.

Council also voted unanimously to approve the second reading of an amendment to an existing ordinance to include licensing of businesses based outside of Carefree that conduct business within the town.

Gardner questioned if certain specific entities would be required to obtain business licenses from outside the town.

Neiss said the existing ordinance includes a list of exceptions.

Vice Mayor Les Peterson clarified it was for businesses that come to Carefree, such as contractors, not businesses located outside of Carefree with which Carefree residents may conduct business outside of town.