AUGUST 13, 2014
Scottsdale Airport welcomes Signature Flight Support as new FBO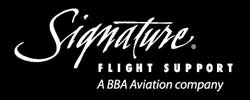 Signature Flight Support, the world's largest network of fixed-base operators, recently announced the opening of its newest location at Scottsdale Airport.

The modern facility includes a 12,000 sq. ft. terminal and 145,000 sq. ft. of hangar space capable of housing all state of the art large cabin business aircraft. Additional amenities include concierge services, passenger and pilot lounge areas and 32,000 sq. ft. of shop and office space.

"Signature is recognized as a premier international fixed-base operator," said Gary Mascaro, aviation director. "We are excited to welcome them to Scottsdale and offer customers two exceptional choices for their flight support services in our community: Landmark Aviation and now Signature Flight Support."

On Aug. 1, Signature Flight Support took full control of the Scottsdale AirCenter leasehold at Scottsdale Airport. This property was part of an acquisition of 43 FBO properties by Landmark Aviation. The Department of Justice required Landmark Aviation to immediately divest the Scottsdale AirCenter lease and that is how Signature obtained this leasehold.

Maria Sastre, President and Chief Operating Officer for Signature Flight Support commented on the acquisition, "Scottsdale AirCenter represents an important addition to our world-class FBO locations in our global network. Their reputation for exceptional customer service was one of many attributes Signature considered in making this acquisition. Scottsdale AirCenter is a fantastic facility in a key market for Signature. We welcome the staff and customers of Scottsdale AirCenter to the Signature family."

For more information, visit Signature Flight Support.