BY LINDA BENTLEY | AUGUST 6, 2014
Legislator's past actions won't slip by unnoticed
Gray forced growth on CCUSD against the will of the voters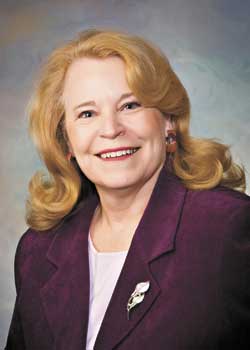 CAVE CREEK – Linda Gray, a former senator who represented District 10 in Phoenix for a dozen or so years, is running for state representative in the Republican Primary to represent District 1, which now includes Cave Creek.

The mailer Gray recently sent out touts her as a "proven and experienced leader," who supports school choice.

Gray apparently only supports choice unless school district administrators lobby her to quash those choices.

Gray upended the will of the voters back in 2007 when she sponsored SB 1164.

Voters on both sides of the Cave Creek Unified School District boundaries had repeatedly rejected annexing the unorganized territory extending out to Rio Verde into CCUSD.

In 2005, the unorganized territory became the Christopher Verde Unified School District, although it still had no schools, teachers, busses, assets or doubling of property taxes.

In 2007, Gray sponsored SB 1164 as a "strike everything" bill, renaming it "school redistricting commission, unification," which was worded so specifically as to apply only to the unique circumstances involving CVUSD and CCUSD.

The language in Gray's bill: "Requires the county school superintendent to dissolve any school district that does not offer a full-time instructional program that transports at least 350 pupils to an adjacent school district or districts annually and requires the school district to annex the geographic boundaries to the adjacent school district. The county school superintendent must annex the geographic boundaries of the transporting school district to the adjacent school district that provides instruction to the majority of the pupils who reside in the transporting school district."

Despite it not being a requirement, CCUSD was providing transportation to students in the unorganized territory for many years and even purchased buses for that purpose.

So, it was no surprise that 350 of the 549 students from CVUSD attended CCUSD.

Gray said she contacted the Arizona Department of Education to find out where the 549 students were enrolled and assumed "students would attend closer to where they lived, thus the 350 students lived closer to CCUSD than any other district."

At the time, SUSD had 33 schools distributed throughout its district of about 27,000 students, many of which were far closer to students in the CVUSD, while CCUSD had no schools east of 60th Street, despite the district's boundaries, prior to annexation, extending to 132nd Street.

Although three other districts were advertising for open enrollment students at the time, CCUSD declared there could be a waiting list.

CCUSD voters made it clear they did not want to expand the district's boundaries even though annexing CVUSD could spread the tax burden out to a larger base.

Over the last several years, CCUSD's policies have resulted in declining enrollment with parents pulling their children out of the district, while voters have refused to authorize bonds and overrides to pay for what they consider misguided priorities of the current administration.

Gray is hoping to fill the seat left vacant by Speaker of the House Andy Tobin, who has decided to challenge U.S. Rep. Ann Kirkpatrick, D-Ariz.

Whatever the reason Gray has decided to step back into the political arena, if her past actions are any indication, she is more likely to appease lobbyists than represent her constituents.