AUGUST 6, 2014
Morris, Hall, Kinghorn staff volunteers at St. Mary's Food Bank
PHOENIX – The staff with the law firm of Morris, Hall & Kinghorn (MHK), P.L.L.C took time to pay it forward and volunteer at the St. Mary's Food Bank.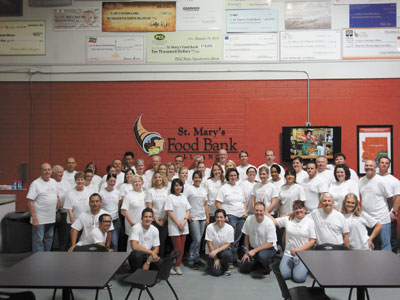 St. Mary's Food Bank, founded in 1967 by John von Hengel, is the world's first food bank and one of the largest food banks in the United States. Their goal is to alleviate hunger through the gathering and distribution of food while encouraging self-efficiency, collaboration, advocacy and education.

On July 31, the entire staff of MHK continued its support of St. Mary's Food Bank by volunteering at their warehouse and distribution center in Phoenix. Together, over 1,000 boxes were filled with food and juices for the elderly in our community. MHK is humbled and honored to be able to continually provide service to our community.

MHK has dedicated its practice to estate planning for nearly 40 years, and for the last 20 years has engaged exclusively in estate planning and supporting areas of the law. The firm is the only member of the American Academy of Estate Planning Attorneys in the area. As a result of its membership in the AAEPA and its exclusive estate planning practice, MHK takes pride in providing the best estate planning strategies, documents and service available.