AUGUST 6, 2014
Meet the 2014 Falcon Football captains
Each of Cactus Shadows' 15 seniors would be more than proud to be selected by Coach Mike Hudnutt as a "game captain" for any one (or more) of the Falcons ten regular season games and, hopefully, deep into the State Playoffs. Each would be prouder to be named by Coach Hudnutt as a "permanent captain" of the 2014 Falcons. But, I'm sure, each would be most proud of being elected a permanent captain by their teammates. So it is for Braxton Gallian, Bradley Kleitsch, Aaron Liermann and Corey Miles – voted by their peers as quad-captains for this season. In my 14 years of reporting Cactus Shadows football, their election marks a commendable first: that is, permanent captains being elected by the team. I congratulate Coach Hudnutt for initiating an election process that, I believe, will promote "senior leadership" for these – and future – Falcons.

So to Messrs. Gallian, Kleitsch, Liermann and Miles: well-deserved congratulations on your honor. Beyond mere congratulations, I wish each of you a personally-rewarding and fulfilling captaincy. And, at season's end, may you have the satisfaction of knowing you brought to every Falcon practice and Friday night the very best of your "senior leadership."

~ Pete Mohr


Braxton Gallian | 6'4" / 270 | TE/WR

I'm betting that at 6'4" / 270, Braxton (or Brax) Gallian is a load after he hauls in a pass or lays out a defensive end! Born July 28, 1996 in Long Beach, Calif., Braxton lives in Cave Creek with his parents, Tyrell and Rick Gallian. A Sonoran Trails Middle School graduate, this season will mark his fourth at CSHS, where he's also played varsity basketball. For the 2014 Falcons, Braxton is out to "play hard and catch balls, with 'winning State' the team's ultimate goal." Post-graduation, he has his sights on ASU (football and business major). At Cactus Shadows, his immediate attention is upon Miss Madison Mercer, a junior. Braxton proudly claims his family as most encouraging his football career. Don't be surprised if ASU recruiters come calling. Go for it, Braxton! You've got it right: you are, indeed, "at the top."
Bradley Kleitsch | 6'3" / 270 | OL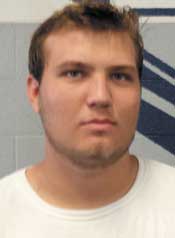 Opposing D-lineman, you'd better watch out! Here comes "Big Country" Kleitsch! A native Phoenician, he arrived in this country on August 30, 1996. "Big Country" is the son of Creekers Philip and Nancy Kleitsch, who are his biggest fans. At CSHS, where he's played football all four years (lettering each year), he's most proud of being a member of the Falcon Football "family." His personal football goal is to earn a scholarship, preferably as an ASU Sun Devil. He would major in accounting. Before he graduates next spring, "Big Country" will again toss some big weights for Coach Patty Egan's Track & Field. Come Friday night, August 29, the eve of his 18th birthday, "Big Country" will celebrate by tossing around more than one Raymond Kellis Cougar!
Aaron Liermann | 6'2" / 220 | DL/FB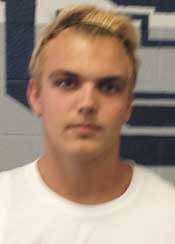 "Swede" Liermann, when he's at fullback, will be a valuable short yardage man for Head Coach Mike Hudnutt. Born September 19, 1996 in Scottsdale, he is the son of Randy Liermann and Linda Austin. "Swede" graduated from Sonoran Trails, and first played organized football as a CSHS freshman. He's going to work hard toward earning a scholarship at the next level, most likely at SCC. "Swede" considers making the 1st Round of the State Playoffs a realistic goal for these Falcons. His biggest football booster? His Dad, Randy. Aaron claims with pride "surviving while being an under-classman!" Like his teammate, "Big Country", he will have a football celebration "under the lights," when the Falcons host the Higley Knights on Friday, Sept. 19.
Corey Miles | 5'6" / 135 | REC/CB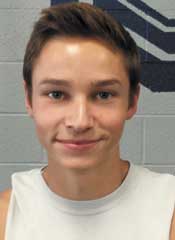 "Boogie" has learned, long before now, that "It ain't the size of the dog in the fight, it's the size of the fight in the dog!" He motored into this world October 21, 1996 in Indianapolis, Ind. A Creeker, "Boogie" is the son of Scott and Christina. He became a CCUSD student in the 4th grade, and played his first organized football that same year. Graduated from Sonoran Trails, he's played four years' football at Cactus Shadows, where he's enrolled in Honors/AP classes. His GPA is enhanced by ASU freshman Dorie Relter. I got your heart drawing, "Boogie"! And his football heart is in the right place, his personal goals being "to help my team and teammates as much as possible." Mom Christina gets Corey's nod as his biggest football supporter. I say, "Boogie down, young man!"