BY MARIELLE D. MARNE | AUGUST 6, 2014
Don't settle for less, go Mohr! Janet Mohr, Realty Executives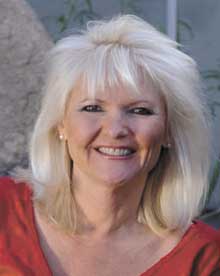 Janet Mohr (pictured) said she's particularly thankful for publisher Don Sorchych's role in helping to keep Cave Creek protected and unique. Sorchych championed one house per five acres zoning in rural parts of the town and, as a result, residents saw increased property values.


CAVE CREEK – If you want more experience, enthusiasm, education, overall excellence, look no further than Janet Mohr, of Realty Executives. Licensed since 1985, Mohr's following has been so faithful she's found couples their first-time homes, only to have them come back when they needed to upgrade to a family home, then maybe a bigger family home! When it comes time for empty nesting, those couples turn right back to Mohr when they downsize. It speaks volumes to Mohr's efforts to not only find a new abode but also sell the old one that keeps clients returning.

Not only can buyers/sellers rely on Janet, who is recognized as a CCIM (Certified Commercial and Investment Member, only 7 percent in the world have this coveted designation), but they get her whole team! Husband, Don, licensed in 1989, along with Annalisa Grace and Phil Bianco round out Janet's support system. Janet explained that in order to be on her team, members must "have a passion for real estate, enjoy working with people, and understand the market and investment potential as well as lifestyle needs."

Mohr was excited to add her son, Ryan, a recent ASU grad, who decided to join Janet and Don. "He's always had an interest from growing up around real estate."

As for the real estate market, it's healthy. According to Mohr, she said buyers will likely start coming back now that enough time has passed to have credit repaired from short sales of yesteryear. Nor does she have any fear of another bubble since buyers have had time to accumulate cash. Cash remains king! There are still land deals to be had. While a vacant parcel may seem like a simple transaction, Mohr explained there's more to it than a pretty view. Permits, easements, utilities all come in to play, but know you can count on the Mohr team to find an appropriate, usable property.

Call Janet Mohr today at 602-980-7653 or visit www.Mohrhomes.com for listings or information.