BY MARIELLE D. MARNE | AUGUST 6, 2014
Logic and lovely locks gel every time with hairstylist Jackie Wood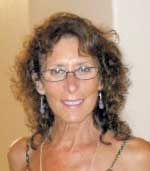 CAVE CREEK – Accuracy and consistency, that remains what people seek in haircuts. Jackie Wood (r), with prior input from her late husband who was a contractor, worked out a geometric equation for the perfect cut ... every time.

To achieve success, Wood measures roughly 15 sections of hair. All are recorded, so they can be precisely reproduced. "We have records of perms and hair color, so why shouldn't we note lengths as well?" she posed. It's a logical approach, Wood added, and who wants guesswork when it comes to appearance?

She takes her time with clients and listens to concerns. The initial styling(s) may take up to an hour. But, it's worth it. Whether you keep the same hairstyle or change it up every season her system works flawlessly.

Thinking of becoming a redhead or opting for all-the-rage violet streaks? Color is in and Wood can help you decide what would look best with your skin tones. If the hair color makes you looked drained, it's either too light or too dark. Wood can assure you put your best face (and hair) forward!

No doubt, styling hair is Wood's calling. She shared, "When we were growing up, we had to pay for haircuts with our allowance. Well, I didn't like that, so when I was 13, I started cutting my own hair." Her talent was evident and soon she was doing it for friends, classmates, sisters, "anyone who would let me."

For color, a cut, a trim, styling, or guidance to look your best, set an appointment with Jackie Wood by calling 623-218-3166. She is located in the Bellazza Salon, 29834 N. Cave Creek Rd.