JULY 23, 2014
Mick Degn named chairman of the Arizona Motorcycle Safety & Awareness Foundation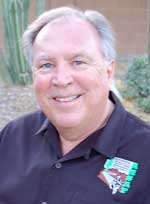 PHOENIX – The Arizona Motorcycle Safety & Awareness Foundation (AMSAF) has named Casa Grande, Ariz., resident Mick Degn chairman of its board directors.

Mick Degn was the lobbyist for the Modified Motorcycle Association of Arizona (MMA) as well as benefit chairman for the El Zaribah Shrine, where he helped to raise thousands of dollars to help the Shriners Hospitals for Children. Degn, formerly a senior level general manager, spent 32 years with Cardinal Healthcare as vice president of operations responsible for a 48-distribution center network and over $1 billion in profit and loss responsibility. In addition, he was the owner of Degn Consulting Services, L.L.C. and Skunk Work Motorsports, Inc. Degn currently is board chairman of the Arizona Motorcycle Safety Awareness Council (AMSAC), a position appointed by the Governor of Arizona. In addition, he holds the position of project leader for the Arizona Strategic Highway Safety Plan regarding motorcycles.

Degn, who has a degree from Capital University, is a motorcycle enthusiast who rides a Harley Davidson Ultra Classic and is a member of the El Zaribah Shriners motorcycle Unit. He also is a member of the Freemasons. Degn works diligently to bring motorcycle safety and awareness to the State of Arizona.

AMSAF develops motorcycle education, promotes training, awareness programs, creates legislation directly affecting motorcycle safety and awareness and supports rider-training assistance programs.