JULY 16, 2014
Miss Scottsdale to compete for National American Miss Arizona title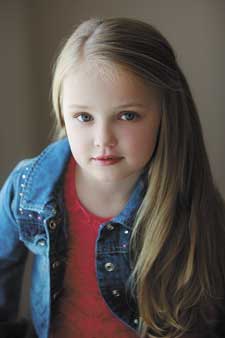 SCOTTSDALE – Miss Zoephia Peyton Decker-Knealing, age 6, has been chosen as a State Finalist in the National American Miss Arizona Pageant to be held July 18 and 19 at the beautiful Doubletree Resort in Scottsdale. The National American Miss pageants are held for girls ages 4-18, and have five different age divisions. Zoephia will be participating in the Princess age division, along with other outstanding young ladies from across the great state of Arizona.

The winner of the Pageant will receive a $1,000 cash award, the official crown and banner, a bouquet of roses, and air transportation to compete in the National Pageant in California where she will receive an exciting and complimentary Tour of Hollywood and two V.I.P. tickets to Disneyland.

The National American Miss Pageants are dedicated to celebrating America's future leaders and equipping them with life-long skills. Each year the pageant nationally awards 1.5 million dollars in cash, scholarships and other prizes, which includes a New Ford Mustang Convertible!

The National American Miss Pageants are unlike any other. All activities and competitions are kept age appropriate. Girls under the age of 12 are not allowed to wear make-up, and there is no swimsuit competition. The Pageant program is based on inner-beauty, as well as poise and presentation, and offers an "All-American spirit of fun for family and friends." Emphasis is put on the importance of accomplishments of each girl while encouraging her to set goals for her future.

Families interested in learning more about this unique and outstanding youth program may visit www.namiss.com.

Miss Decker-Knealing's activities include dance, ice skating, acting, gymnastics and swim. She is a year ahead in school and will be starting the 2nd grade this August at Quality Interactive Montessori in Cave Creek. She is also represented as an actress and model with the Leighton Agency of Scottsdale. When not busy with school and activities, Zoephia enjoys doing community service projects like Pajama Program for whom she collects new books and pajamas for Arizona kids in need. Miss Decker-Knealing's sponsors include her friends and family.