JULY 16, 2014
Desert Foothills Theater presents "Cabaret Night: Sentimental Journey"
T.A. Burrows and Kat Bailes to fill the night with music; Sun., July 20 at Venues Cafe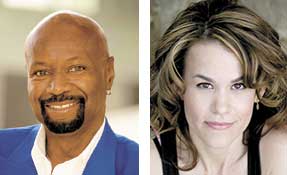 CAREFREE – Back by popular demand, Desert Foothills Theater (DFT), a division of the Foothills Community Foundation, presents "Cabaret Night: Sentimental Journey" on Sunday, July 20 featuring the dynamic duo, T.A. Burrows (l) and Kat Bailes (r). The evening begins at 6:30 p.m. with appetizers at Venues Café, 34 Easy St., in Carefree, with the performance set for 7:30 p.m. Tickets cost $40 per person and include a glass of wine, appetizers and the show.

Proceeds from the performance benefit Desert Foothills Theater.

"This is the first of our Cabaret Series and because tickets have sold out for previous shows, we encourage guests to purchase their tickets early," said Meribeth Reeves, DFT executive director. "We also anticipate a lot of interest in this show, particularly because T.A. and Kat are multi-talented entertainers who are known for dazzling audiences."

Burrows and Bailes' Sentimental Journey cabaret performance will take the audience on a music and memory-filled trip through time. Covering five decades from malt shops to the new millennium, the duo will perform 21 renowned songs that comprise "the soundtrack of our lives," as music and culture evolved from Elvis Presley to Michael Buble and Brenda Lee to Shania Twain. Between the hits, they will regale the audience with humorous anecdotes and recollections of the fads and fashions of each era.

"Sentimental Journey is an amazing 75-minute expedition filled with unforgettable songs, lots of laughs, and great memories," Reeves said. "You'll be humming the tunes well after the evening is over."

Doors open on July 20 at 6:15 p.m. and seating is first come, first serve. For details or to reserve tickets, visit www.dftheater.org or call 480-488-1981.