JULY 16, 2014
Edward Jones Financial Advisor wins award for outstanding year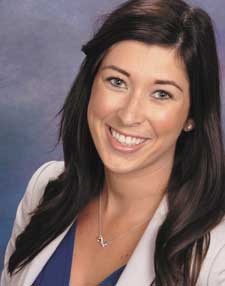 Natasha H. Palmatier, of the financial services firm Edward Jones, recently won the firm's coveted Ted Jones Prospecting Award, which recognizes financial advisors who achieve high levels of success early in their careers. Palmatier was one of only 629 of the firm's more than 13,000 financial advisors to receive the award.

The award is named after Ted Jones, the legendary son of the firm's founder, who recognized the need to sell securities to individual investors and established the firm's one-broker branch office concept. "I'm very proud to receive an award named after Ted Jones," Palmatier said. "It is because of him that our Cave Creek office exists, and I believe we are serving an important need here for one-on-one investment information. I plan to do my best to continue meeting that need." Jim Weddle, the firm's managing partner, said the award is a strong indicator of a financial advisor's future success.

"We recruit and hire our financial advisors from among the best, so we expect our financial advisors to do well," Weddle said. "But to achieve such success this early in her career is outstanding, and I commend Natasha for her performance and dedication." Edward Jones, a FORTUNE 500 company, provides financial services for individual investors in the United States and, through its affiliate, in Canada. Every aspect of the firm's business, from the types of investment options offered to the location of branch offices, is designed to cater to individual investors in the communities in which they live and work. The firm's 13,000-plus financial advisors work directly with nearly 7 million clients to understand their personal goals – from college savings to retirement – and create long-term investment solutions that emphasize a well-balanced portfolio and a buy-and-hold strategy. Edward Jones embraces the importance of building long-term, face-to-face relationships with clients, helping them to understand and make sense of the investment options available today.

"The financial industry is constantly changing, and I stay on top of it to provide the best opportunities and solutions for my clients," Palmatier says. She invites you to stop by her Edward Jones office at 4815 E. Carefree Hwy, Ste. 103 (in Fry's Shopping Center) or call 480-488-2821 if she may be of assistance.

Headquartered in St. Louis, Edward Jones ranked No. 4 overall in FORTUNE magazine's 2014 100 Best Companies to Work For ranking. Visit www.edwardjones.com and Follow them on Twitter@EdwardJones. Member SIPC. FORTUNE and Time Inc. are not affiliated with and do not endorse Edward Jones products or services.