My View
BY DON SORCHYCH | JULY 9, 2014

Cave Creek politics

Buffalogate

My editorial in the June 18 issue was not appreciated by Town Manager Peter Jankowski. As I prepared to go to my regular Wednesday chiropractic appointment with Dr. Todd Myers, an angry Jankowski was in our lobby.

What most disturbed him were the allegations of town hall corruption. He said he had never been accused of corruption. I didn't say he was corrupt, I gave numerous instances of anti-Sonoran New actions. We are a tax paying Cave Creek business that has been publishing since February, 1995. He was especially angry I wrote about his threatening a town business owner about condemning property and arguing that is the way they do it back east. He conceded town codes are different across the country but had no explanation as to why he didn't read our town code.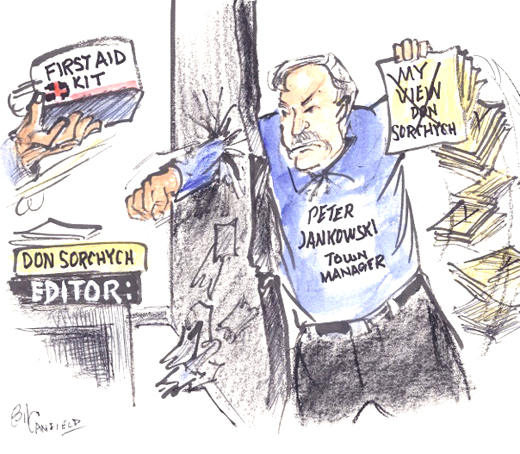 When the issue about why Sonoran News didn't get advertising for the then coming election he blamed the town clerk saying he let staff do their job.

We finally learned she was following the written dictates of former Interim Town Manager Rodney Glassman with no apparent overview by Jankowski. The rule in any management structure is "delegate but verify."

The deal Glassman made with The Arizona Republic is claimed to be the lowest in cost and at $43 dollars maybe it is. However the area in which they distribute is all of 85331 and several other zip codes, not just Cave Creek. Sonoran News mails to every mailing address in Cave Creek. The object should be to cover the town so every voter is notified rather than spend the least amount of money.

As a free paper we cover entire zip codes while subscription newspapers like The Arizona Republic cover a fraction of what we do. Maybe this insult to town voters was hatched during the many taxpayer paid lunches Glassman had with Philip Haldiman.

Jankowski insisted their so-called connection to the business community Patty Pollnow had called us. Somebody is lying because I talked to every employee and no one received a call from Pollnow. Jankowski told me she now works under Town Marshal Adam Stein and she is working on the Taste of Cave Creek. Lots of luck with that. Wouldn't it be fun if restaurants decided not to participate because of the political nature of the messenger?

Then there is the issue of Jankowski knowing but not stopping Vice Mayor Adam Trenk from visiting with town employees and developing ordinances.

Here is what the Town Code says:

"Orders and Directions.
"The Town Council shall deal with the administrative services of the town only through the Town Manager, except for the purpose of inquiry, and neither the Town Council nor any members thereof shall give orders to any subordinates of the Town Manager."

Clear enough? There is more:
"H (3) Appoint and, when necessary, suspend and remove all employees of the town. With regard to all officer and employees appointed by the manager, neither the Town Council nor any of its members shall direct or request the appointment of any person to, or his or her removal or suspension from, such office by the Manager or any of his or her subordinates, or in any manner take part in the appointment or removal of such officers and employees in the administrative services of the town."

There is still more but we clearly have a Town Manager form of government.

One reason Usama Abujbarah and Mayor Vincent Francia had such a long and effective working relationship is because they respected each other's role and didn't interfere with each other's duties.

It is certainly time for Peter Jankowski to read, understand and practice the role of Cave Creek Town Manager rather than that of some distant eastern town. Trenk isn't the only one among council members to try to micromanage staff. The problem always is to protect the staff members from retaliation.

It is disappointing that no one speaks up when Trenk decides to play politics with taxpayer money in the so-called Cave Creek Coyote. Mayor? Town manager? Council members?
Dead buffalo

A friend read a number of Facebook reactions to Linda Bentley's article about a buffalo apparently falling from T.C. Thorstenson's huge truck trailer he uses to haul his buffaloes. Thorstenson has, since he opened Hogs N' Horses, fed a buffalo or steer on the trailer top to attract business. We have received many complaints about the danger to the animals and the observers and editorialized against the practice. Some of the people who wrote on Facebook wondered why the town allows putting an animal up high on a conveyance. For those who condemned Sonoran News for printing hearsay (according to them) you have to wonder why anyone would condemn a newspaper that prints the truth. I conclude those who complain about us are the same low information voters who made Obama president.

We talked to the employer whose employee found the dead buffalo, concluded it had a broken neck from falling off the trailer and called Thorstenson, who quickly moved the dead animal out of sight. We don't print names of people who don't want their name in print unless we are quoting court documents or law enforcement. Now there is "hearsay" Thorstenson took the buffalo to Tucson to get a necropsy, claiming the animal was poisoned.

Sound familiar?

His buddy, and perhaps lawyer, Adam Trenk, claimed his horse was poisoned and "someone" cut his brake line and used those assertions and anti-Semitism to hide his address. His friends assert I was the villain. That assertion is libelous, defamatory and stupid. After serving as CEO or Sr. Vice President of five companies I am sure someone with those accomplishments would never be guilty of such nonsense. But that is what the dark side of politics does in Cave Creek – try to destroy reputations.

It will be interesting to see how Buffalogate and the court case involving Thorstenson play out. You will read the outcome here.