JULY 9, 2014
Foothills Animal Rescue receives $20,000 gift from Colony American Homes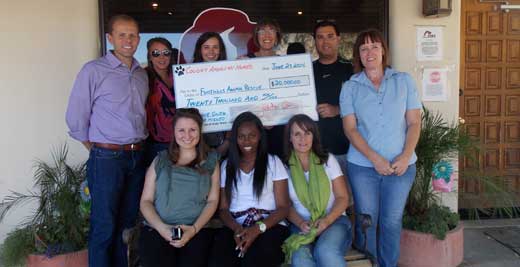 Top row: Justin Iannacone, Samantha Kretenko, Dani Hart, Victoria Cowper (FAR), Eddie Nichols (FAR), Marlene Miles (FAR)
Bottom row: Rachel Sandoval, Jonetta Hobbs, Melissa Ferris

SCOTTSDALE – On May 14, Colony American Homes (CAH) debuted their first-ever CAH Golf Classic to honor Brynne Alana Smith, a former employee who was lost at a young age last year in a tragic accident. The fundraising event was held at McCormick Ranch Golf Club.

Golfers received a generous welcome bag for their $150 participation fee. They also had the opportunity to contribute additional funds by purchasing Mulligans, tickets for putting contests, and raffle tickets for a variety of impressive prizes at the post-golf reception. Monies raised from corporate sponsorships also contributed to this very worthy cause.

The inaugural golf classic raised $20,000 for Foothills Animal Rescue, a Scottsdale-based cage-free, no-kill shelter that saves lives by the care and adoption of homeless cats and dogs rescued from Maricopa County public intake facilities. The event also served as a way for Smith's friends, family members, co-workers and Colony American Homes' strategic partners to gather in her memory and celebrate a life that was too short but richly lived.

"Last year, we lost Brynne in a tragic accident that left many people in our organization in a state of shock and profound grief," explained Justin Iannacone, CAH Executive Vice President. "As a way to pay tribute to her, her co-workers and friends decided to create a golf tournament in her name that would benefit a cause that she dearly cherished."

"All of us at Foothills Animal Rescue were saddened at the loss of such a young, vibrant person who truly loved animals and advocated for the adoption of shelter pets," added Eddie Nichols, Director of Outreach & Development. "We are so grateful for CAH's generous donation that will help us provide much-needed services for all the dogs and cats in our care, and have planned to dedicate a room at the shelter in Brynne's honor."

CAH anticipates that this highly successful golf classic will become an annual event, keeping Smith's memory alive for all of those who loved her.