BY LINDA BENTLEY | JULY 2, 2014
Informing the public v. personal vendetta
The difference in cost for the town's most recent legal ad would have been $42 to use Sonoran News and reach every single household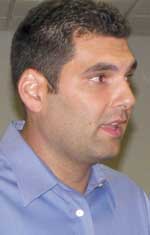 CAVE CREEK – Back on August 26, 2013, Interim Town Manager Rodney Glassman (l) instructed Town Clerk Carrie Dyrek, "Effective immediately, ALL Town advertisements for P & Z and all other public notices should be done through the Arizona Republic," claiming it was based on an analysis Dyrek had put together.

Dyrek sent Glassman an e-mail earlier in the day stating Sonoran News has a rate of $17 per column inch and a mail circulation of 36,200, including every address and P.O. Box in Cave Creek with another 2,000 on racks. Dyrek said, according to the town attorney, "they do not meet the weekly newspaper criteria because they publish every other week."

Dyrek stated in her e-mail to Glassman the town used Sonoran News based on a council decision following a request for quotes in 2001.

She also included information about the Foothills Focus, which claimed a circulation of 20,000 to 22,000 each week with 10,000 going to Anthem alone with 2,300 in racks and 2,000 to P.O. Boxes in Cave Creek.

According to Dyrek, its publisher, John Alexander, could not provide how many total households receive the paper, nor quote a price per column inch, and only stated he would meet or beat other papers' rates.

Dyrek pointed out the Foothills Focus stopped mailing to the area for over a year, but had apparently started mailing again.

She said there was an issue about it being a legal paper for their public notices and would need something in writing before placing legal notices in that paper.

Then there was the Arizona Republic, which has a state contract for legal/public notices at a rate of $.35 per line with 14 lines to the column inch, which comes to $4.90 per column inch.

Dyrek said the Scottsdale North Zone 8 Section covers Cave Creek and is published every Wednesday, Friday and Saturday. She stated its circulation averages 17,289 for Zone 8.

Zone 8 covers a huge swath of area, which, according to the Arizona Republic's Zone 8 map, includes Zip Codes 85028, 85032, 85050, 85054, 85255, 85259, 85260, 85262, 85263, 85264, 85266, 85268, 85331 and 85377.

According to the latest census, the population in Zone 8 is 289,246.

The Arizona Republic says it has 3,329 subscriptions and single copy sales of 711 in the 85331 Zip Code, which has a population of approximately 27,000, as it also includes the high-density housing developments of Tatum Ranch and Dove Valley Ranch in Phoenix as well as unincorporated areas of Maricopa County.

The Arizona Republic could not provide any separate data as to how many households receive the paper in the town of Cave Creek, which has a population of almost 5,200.

Now, back to the town attorney's claim that Sonoran News doesn't meet the weekly newspaper criteria, they're incorrect where it involves legal ads.

And, just to clarify things, neither Sonoran News nor Foothills Focus, or any other free distribution newspaper, for that matter, meets the statutory definition of "newspaper," period.

A.R.S. 39-201(A) states, "In this chapter, unless the context otherwise requires, 'newspaper' means a publication regularly issued for dissemination of news of a general and public character at stated short intervals of time. Such publication shall be from a known office of publication and shall bear dates of issue and be numbered consecutively. It shall not be designed primarily for advertising, free circulation or circulation at nominal rates, but shall have a bona fide list of paying subscribers."

So, in order to comply with statute, Sonoran News has worked out a deal with the Gila Bend Sun, a weekly newspaper in Maricopa County, to publish the town's legal ads, while printing the same ad in Sonoran News, which reaches every household in town.

We are the only publication in Cave Creek with 100 percent distribution in Cave Creek as well as Carefree.

As proof of publication, the affidavits are signed by the Gila Bend Sun, not by Sonoran News.

Foothills Focus does not meet the statutory definition of newspaper and has no other such arrangement to do so.

So, while the planning commission recommended, and council later adopted, an ordinance to extend its notification area for zoning cases from 300 feet to a one-half mile radius, to ensure as many people in town are aware of pending zoning applications, the town has chosen to advertise in the Arizona Republic's Zone 8 instead of Sonoran News, reaching only a fraction of households and with no idea how many of the 3,329 subscriptions in 85331 Zip Code are actually delivered within the town of Cave Creek.

While, a small business such as Sonoran News can't possibly compete with the Republic's state negotiated contract rate of $4.90 per column inch, the Republic is only serving a tiny fraction of the town's population versus 100 percent served by Sonoran News.

The difference in cost for the town's most recent legal ad would have been $42 to use Sonoran News and reach every single household.

Planning Director Ian Cordwell, to comply with the new half-mile notification requirement, sent out 730 notification letters to property owners within a half-mile radius. Approximately 60 of those letters came back as return mail.

It costs $357 to mail 730 letters First Class at $0.49 each, with $29.40 wasted right off the bat in return mail.

Glassman pulling the legal ads from Sonoran News is much deeper than just using a state contract to save money or having the town attorney claim we don't meet the legal qualifications, when they obviously were not informed of our relationship with the Gila Bend Sun.

It was Vice Mayor Adam Trenk who coaxed the slate of four councilmen to hire his friend Glassman as interim town manager.

And if you read his Facebook posts or even the town's Cave Creek Coyote newsletter, Trenk cannot seem to utter the words "Sonoran News" or refer to the local newspaper without prefacing it with the adjective "toxic," as he publicly proclaims his disdain for the newspaper that has faithfully served the community for nearly 20 years.

Glassman went even further than pulling all advertising from Sonoran News; he wined and dined Arizona Republic reporter Phil Haldiman, at taxpayer expense, to feed him exclusive stories.

Haldiman has since been transferred to cover the town of Surprise.

Glassman also contracted with Patty Pollnow for "community outreach" at $1,000 per month for a nine-month contract, ensuring that it extended past his tenure.

He apparently instructed her not to contact Sonoran News, which, to this day, she has never done.

According to Town Manager Peter Jankowski, Pollnow's contract was not budgeted and Glassman, with his exorbitant monthly expenses for mileage and entertaining at the taxpayer trough, left his interim post with his department way over budget.

So, the town, while professing to be hell bent on being as open and transparent as possible, has chosen to allow the vice mayor's personal vendetta to interfere with informing the public.

This obviously isn't, and has never been, about saving $42.