BY LINDA BENTLEY | JULY 2, 2014
Buffalo found dead at Hogs 'N Horses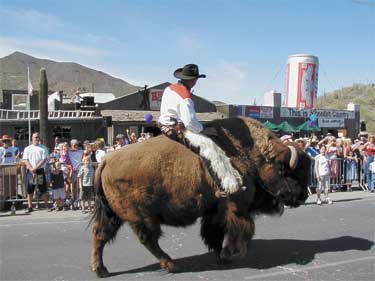 T.C. Thorstenson is pictured riding one of his buffalos during a parade in Cave Creek.



CAVE CREEK – Tuesday morning, Sonoran News received numerous calls from locals saying one of Hogs 'N Horses Saloon owner T.C. Thorstenson's buffalos fell from the top of his big pink trailer where it feeds to its death.

Callers said the buffalo was lying dead in the arena where it fell.

When Sonoran News arrived at the scene, the buffalo was gone from the arena and Thorstenson was busy in the back of his property hooking up a flat bed trailer to a pickup truck with something large on the back covered up with a tarp.

A short while later, another caller said he was driving down Cave Creek Road and saw Thorstenson drive by with the buffalo on the flat bed, stating the wind blew the tarp back exposing enough of the cargo to reveal it was the dead buffalo.

That caller said he contacted Maricopa County Sheriff's Office asking if there was something they could do to stop Thorstenson from endangering his animals that way, since it wasn't that long ago when one of Thorstenson's long horn steers was reported to have fallen from the ramp leading to the roof of the same trailer and broke a leg.

The caller said the deputy told him there wasn't much they could do as there is a different set of laws pertaining to livestock than there is for pets.

He also said providing shade is not a requirement for livestock.

The deputy did say if someone actually saw the buffalo fall of the roof of the trailer, there might be something they could do.

However, if all anyone saw was the buffalo lying in the arena dead, they would have no way of knowing how it died – if it fell off the trailer or if it was from natural causes.

Thorstenson is still facing criminal charges for indecent exposure and assault, and, in a separate case, DUI, all stemming from an incident that occurred back in March. His pre-trial conferences for both cases, which are pending in the Desert Ridge Justice Court, have been continued until July 21.