BY LAURYN HALVER | JULY 2, 2014
Daily life at The Heritage in Carefree
Lawrence Stukeo, a bar association member, has been a resident of the Heritage in Carefree senior living facility since late 2013.

Lawrence is a veteran of WWII and the Korean War. He practiced law in Illinois, where he was born and raised, but moved to Arizona to be closer to his daughter Lisa Stukeo who lives near The Heritage.

A typical day for Lawrence includes eating, sleeping and watching TV with his caretaker. Right now the two are avidly watching the FIFA World Cup when the matches are on.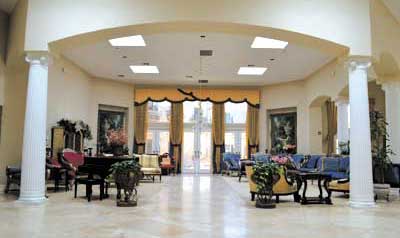 When you walk into The Heritage, it may seem eerily quiet when in fact there is a whole schedule of daily activities for the 40 to 50 current residents. These activities include things like bingo, movies, and art classes. Once a week residents are offered food from various different restaurants and shopping.

There are three different living styles to choose from; independent, assisted living, and memory care. In addition, there are optional add-ons such as TV, Internet, and barber/salon services.

The Heritage also offers an outdoor area where "residents can lounge away lazy afternoons with their favorite book or a lively conversation with fellow residents and care companions."

If you are interested in a personal visit or more information about The Heritage in Carefree please call 480-488-1622 or go to heritageincarefree.com. They are located at 36590 N Pima Rd, #3481, Carefree, Arizona 85377.