BY LINDA BENTLEY | JUNE 18, 2014
Specific Area Plan paves way for commercial on Carefree Hwy.
Iverson said compromises have been made by residents in the area but didn't see any compromises being made by the church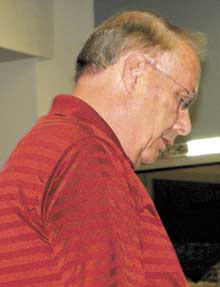 CAVE CREEK – Ron Iverson (l) spoke during Monday night's Call to the Public segment of the council meeting to ask council to take steps to correct its minutes, which he said were not representative of the meetings. Iverson said he hopes the town manager will do something to get better records.

Town Manager Peter Jankowski reported his family was in the process of moving to Arizona.

He also said staff was reviewing its rented items, noting it was costing the town far more money than purchasing those same items.

Jankowski announced the town was moving items stored at the Neary site to the Water Ranch and said Town Marshal Adam Stein will be experimenting with different lengths of time to monitor noise in the town core.

The consent agenda, including the cancelation of the July 7 meeting was passed unanimously.

Council voted unanimously to approve the payoff of a WIFA (Water Infrastructure Finance Authority) loan in the amount of $175,000.

Jankowski said paying off the small loan will also reduce the amount of reserves the town is required to have.

Councilman Ernie Bunch, who moved to approve the expenditure, said he didn't know why the town obtained a WIFA loan for $350,000 when it had the cash and was thrilled to pay it off early.

Most of the people in attendance where there for the Specific Area Plan (SAP). Mayor Vincent Francia asked that they keep their comments to three minutes.

Planning Director Ian Cordwell explained agenda items 2, 3 and 4 were linked and said staff worked with the church and residents in the area to come up with the SAP, which was brought to the planning commission.

The SAP proposed Commercial Buffer (CB) zoning one lot deep along Carefree Highway between 48th and 53rd streets.

The planning commission recommended removal of six lots behind Lowe's that would have allowed for 33-foot building heights for multi-family, hospitality and/or assisted living uses.

The SAP restricted building heights to 22 feet, a 10 percent reduction from the 25 feet allowed throughout the zoning ordinance, which Cordwell said was done to make the sight unique and different from the Phoenix side of Carefree Highway.

Cordwell said concerns were raised that people would use the north and south side streets to bypass Carefree Highway to get to New River road but he disagreed.

He said the original proposal allowed for 15 percent lot coverage but Carefree Highway Community Church asked for 18 percent excluding outside shaded areas, so he provided examples of what 15, 18 and 20 percent lot coverage would look like.

The SAP provided for a 30-foot setback in front and 60 feet in back and would provide 120 feet between buildings.

Cordwell said the setbacks were sufficient for drainage and trails.

Councilman Mike Durkin said he failed miserably trying to contact adjacent residents.

Cordwell said he only heard from Timothy Spence and folks who lived farther north but no one directly connected.

Councilman Thomas McGuire questioned the reason for the driveway on the church property on Carefree Highway.

Cordwell said it was an existing driveway and the church requested keeping it.

McGuire also asked if the sign size restrictions for commercial buffer were appropriate for cars traveling much faster on Carefree Highway than in the town core.

Cordwell said that was a good a point.

Councilman Charles Spitzer said he had questions about Exhibit B and asked if the 22-foot building height included parapets.

Cordwell said the zoning code allows for an additional five feet for screening mechanical.

Spitzer asked what the policy was on drive-throughs.

Cordwell said they are not allowed in CB zones but could be allowed as part of the SAP if the town chooses.

Councilman Reg Monachino asked Cordwell if there was a site plan under review for a hotel.

Cordwell said there was not.

Francia asked if the meandering central passageway went through the entire piece.

Cordwell said it did except for the school parcel and those zoned General Commercial (GC).

He said the church was proposing GC but will still be able to get most of the uses, except automotive, with CB zoning.

During public comment, David Smith, an Estado de Cholla resident, said it has been a constant battle over the years over what will happen with that area and said he was "very much in favor" of the SAP.

Attorney Julian Weltsch, representing the Thurstons who own three parcels at the corner of 48th Street, said the SAP only allowed for office space.

Weltsch stated there was very low demand for office space and asked council to revise the SAP to allow for more uses on his clients' property.

He said, "Office would be the kiss of death. We would like to include a little more flexibility."

Iverson said compromises have been made by the residents in the area but he didn't see any compromises being made by the church.

The youth pastor from the church stated there were not a lot of things for teens to do in the area and he was in favor of agenda items 2, 3 and 4.

Ron Clark said he was not a Cave Creek resident but supported the SAP and stated the sale of the property will allow the church to do what it wants to do.

Janet Mohr said she has been thinking about the proposal for a long time but as a real estate agent she believed something was being overlooked.

She said it was good to see people coming together but thought the land should have a heavier use and the SAP was giving up too much in potential tax dollars, stating, "We need the money."

Norm Surratt, the church's associate pastor, said they were talking about a church that was here before the town was organized. He said they weren't permitted to expand their building as their congregation grew because it was grandfathered in with a special use permit on residential land.

Surratt said there were over 700 families with Cave Creek addresses that are members of the church and part of the community and he appreciated council's consideration.

Representing the church, Attorney Ed Bull summarized their proposed revisions for the SAP and said the church had made many concessions from where it originally started out.

He asked council to approve the SAP with the revisions they provided.

Mike Aldridge said he supported the SAP on many different levels, stating it will help the church and the community. He said it was a "fair plan" and "the right thing to do."

Wes Cooper stated, "I think Ian has done a significantly good job on this SAP," and recom-mended approval.

Francia asked Bull if the church was interested in doing something with the property or just upzoning it to sell.

Bull said the church was not qualified to develop the property and it would be sold to a developer.

Vice Mayor Adam Trenk moved to approve the SAP without amendments to get the discussion going but said he would be making some amendments. Durkin seconded the motion.

Trenk offered amendments to allow an additional five feet in architectural features to screen mechanical equipment, 18 percent lot coverage exclusive of outdoor shaded areas, expand the uses of the parcels designated office only to include retail and services, limit hours of operation to 6 a.m. to 11 p.m., increased signage area, and allow drive-through uses except for fast food.

Durkin said he thought that level of change should be incorporated into the plan and brought back by staff.

Francia said his concern was they've made it so restrictive it can't possibly succeed, adding, "Office space to me has no benefit."

Durkin said he was perfectly happy with the CB zoning as it stands and the only place they should consider less restrictive zoning is adjacent to the GC.

Francia had a problem with limiting hours of operation.

McGuire said he wanted to make sure they had conformity and didn't like the fact that only one lot had access from Carefree Highway.

Spitzer said, "We talk about revenue but we don't talk about the peace of mind of residents. If we don't protect citizens that are already here no one else will."

He also noted the SAP doesn't change the zoning and said, "This is our one chance at compromise."

Trenk said he echoed Spitzer's comments and stated, "Everyone can live with the certainty it creates. The time is now."

Monachino said, "This is the closest we've ever come." He asked to take Trenk's suggestion and go line by line through his amendments.

Bunch said he believed the area should be GC and said he'd support anything that would move it up a notch. He asked if it could be changed later.

Cordwell said it could not but said many of the same uses are allowed in CB zoning as in GC only with a special use permit. He said the biggest difference was auto-related uses were not allowed.

Council went through Trenk's amendments one at a time but when it came to drive-throughs except for restaurants, Francia asked if they were giving McDonald's a monopoly.

Bunch and Durkin both stated they didn't have a problem with drive-throughs.

Council voted 6-1 with Francia dissenting to approve the SAP as amended.

During a short break there appeared to be some confusion as to what council actually approved as there was mention of Exhibit A but references made to Exhibit B.

Town Attorney Fredda Bisman said council could utilize a two-step process. First they would have to vote to reconsider the item, then restate the motion and vote again.

The motion to reconsider passed unanimously.

Trenk then moved to ratify his motion to include the six parcels previously removed, but agreeing with Monachino's suggestion to remove the reference specifying hospitality use.

The motion passed by a vote of 5-2 with Francia and Bunch dissenting.

Bull addressed council on agenda item 3, asking to withdraw their application for a general plan amendment, now moot in light of passage of the SAP.

Council voted unanimously to pass the first reading of an amended ordinance to rezone the church parcel from Desert Rural to CB as per the SAP.

Because the application was originally a request to rezone to GC and CB was a lesser intensity, Bisman said it could go forward without readvertising the item.

Council unanimously passed the second reading of an ordinance adopting non-utility development fees.