BY LINDA BENTLEY | JUNE 18, 2014
Kerry Smith sues to enjoin recall against Durkin and Spitzer
Meanwhile, Cave Creek Caring Citizens Committee has restarted its efforts to recall Trenk and Monachino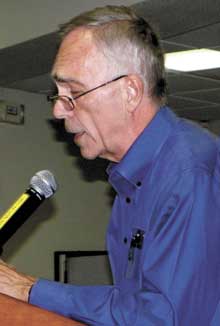 CAVE CREEK – On June 4, ASU professor (Vincent) Kerry Smith (r), chair of the Citizens Concerned for Cave Creek Committee, which failed to obtain sufficient signatures to recall councilmen Ernie Bunch and Thomas McGuire, filed a petition for special action in Maricopa County Superior Court for a preliminary and permanent injunction to halt the recall against councilmen Mike Durkin and Charles Spitzer.

During the Order to Show Cause hearing held on June 9 before Judge Robert Oberbillig, defendants requested a continuance, which was granted and rescheduled for 10 a.m. on Wednesday, June 18.

However, on Thursday, June 12, in keeping with the timelines, Town Clerk Carrie Dyrek issued a public notice calling for a Special Recall Election to be held in conjunction with the Nov. 4, 2014 General Election to fill the seats currently held by Durkin and Spitzer and explaining the procedure and schedule for filing nomination petitions by candidates wishing to run in opposition to either one of the recalled councilmen, not both.

Nomination petitions must be filed no earlier than Wednesday, Aug. 6, 2014 and no later than Friday, Sept. 5, 2014.

If the court rules in Smith's favor and orders the recall election against both councilmen enjoined, the recall will be called off.

Meanwhile, Cave Creek Caring Citizens Committee has restarted its efforts to recall Vice Mayor Adam Trenk and Councilman Reg Monachino, to whom Superior Court Judge Douglas Gerlach granted injunctive relief on June 2, stating the recall against Trenk and Monachino could not proceed but could proceed against Durkin and Spitzer.

However, given the timelines allotted to the town clerk and county elections for verifying petitions and signatures to call for an election at least 90 days in advance, it is unlikely a recall election could be called before March 10, 2015, the next available date.