JUNE 18, 2014
LD 1 Clean Elections debate scheduled for June 25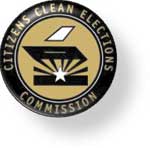 PHOENIX – The Arizona Citizens Clean Elections Commission will host a debate for Republican House candidates in Legislative District 1 at 6 p.m. Wednesday, June 25, 2014. The debate will be at Prescott City Hall, in the council chambers at 201 S. Cortez St. in Prescott.

Legislative District 1 represents much of Yavapai County and part of Maricopa County.

Candidates who participate in Clean Elections to run for office are required to attend one primary election debate unless they are running unopposed. Candidates who are not running with Clean Elections funding are invited to join the debate, but their attendance is optional.

All Clean Elections debates will be videotaped and posted online. The debates will be available on the website within 72 hours after they occur: www.azcleanelections.gov/home. The videos will remain online for voters to watch throughout the election.

The 2014 primary election will take place Aug. 26. Early voting begins July 31.