BY LINDA BENTLEY | JUNE 18, 2014
Arizona's redesigned driver licenses and ID cards
Persons with only a temporary document who need to travel should bring
additional forms of ID to assist in verifying their identity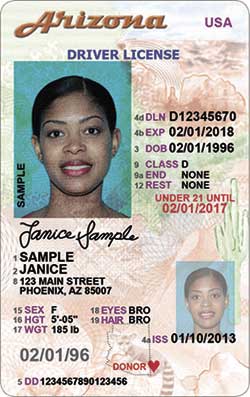 PHOENIX – The Arizona Department of Transportation (ADOT) has started a new centralized credential issuance process for driver licenses and identification cards.

As part of the new process, ADOT has introduced a redesigned license and ID card, which contains security enhancements to help safeguard personal information and prevent identity theft.

Some of the enhanced features of the redesigned license include:
• A larger primary portrait with a smaller ghost portrait ensuring the person's appearance is clearly reflected
• A security design comprised of unique Arizona geological features in the background created by using many different patterns, lines and images
• A laser perforation in the shape of Arizona, which is used to quickly authenticate the credential when held up to the light
• A tactile date of birth field to assist in authenticating the credential by using the sense of touch (The date in this field will have a raised feel to it.)
• A ringtail, the state mammal, illustrated on the front of the new credential
• Organ Donor and/or Veteran designations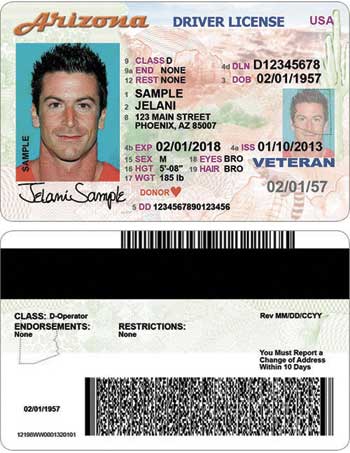 Now, when applying for or renewing one's license, a temporary document will be issued with the cardholder's photo until the permanent license is received at the address listed on the application within 15 days.

Although there is no need to update a current license or ID card to the new design, Transportation Security Administration (TSA) requires a U.S. federal or state-issued photo ID that contains a name, date of birth, expiration date, social security number, phone number, and a tamper-resistant feature for travel.

Persons with only a temporary license or ID who need to travel should bring at least two additional forms of ID, such as a social security card, birth certificate, marriage license or credit card, to assist in verifying their identity.