JUNE 18, 2014
Archaeology Center announces children's area Grand Opening
CAMP VERDE – The Verde Valley Archaeology Center has announced the Grand Opening of their Children's Discovery Area on June 28, from 10 a.m. to 4 p.m. The Center is located at 385 S. Main Street, Camp Verde.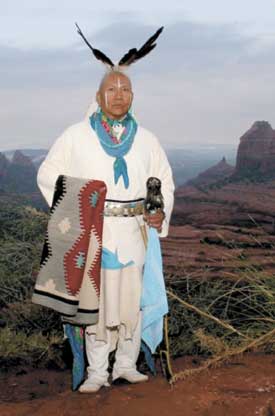 The Children's Discovery Area will provide kids of all ages the opportunity to learn about the prehistoric past of the Verde Valley in fun and interactive ways. The first 100 kids at the Grand Opening will receive a Junior Archaeologist badge and a copy of the Center's Kid's Guide to Archaeology activity book.

Several special activities are planned for the day. From 11 a.m. to 1 p.m. face painting artist Olivia Morris will provide free face-painting. In addition, Uqualla (l), a member of the Havasupai Tribe in the Grand Canyon will perform and do children storytelling at 11 a.m. and again at 1 p.m. Uqualla brings to life the mystic world of Native American people. Uqualla recounts the traditional stories by which his own ancestors passed down through history.

For additional information about the free event, contact the Center at 928-567-0066 or by email at center@verdevalleyarchaeology.org.