BY LINDA BENTLEY | JUNE 11, 2014
Fighting the spread of invasive quagga and zebra mussels
Whether you fish, or boat, or simply get water and electricity to your home, these aquatic invaders WILL affect your lifestyle …
CAVE CREEK – If anyone has been to Lake Pleasant recently, it's difficult not to notice the array of "Don't Move A Mussel" signs, a campaign by the Arizona Game and Fish Department (AZGFD) to educate boaters about mandatory conditions for moving watercraft and other equipment from identified bodies of water in Arizona to prevent the spread of invasive quagga mussels.

However, after Utilities Manager David Prinzhorn produced pictures of its CAP pump station equipment coated with quagga mussels (below), our curiosity was piqued as to where these mussels originated and how they got here.

Native to the Dneiper River drainage of the Ukraine, quagga mussels were first discovered in the United States in Lake St. Clair, Mich. in 1988 and were believed to have been introduced through ballast water discharge from ocean-going ships.

Zebra mussels, native to the Caspian, Black and Azov seas of Eastern Europe, are believed to have arrived the same way.

Zebra mussels have since spread throughout the Great Lakes, along the Mississippi River Basin and other waterways throughout the eastern and central United States.

Quagga mussels are dispersed primarily via human-related activities and from the time they were discovered in 2007 in one area of Lake Mead, they have since infested nearly all areas of lakes Mead, Mohave, Havasu and Pleasant.

The hearty mussels, which attach themselves to hard surfaces, can live for three to five years and survive for extended periods of time out of water.

They can release approximately 40,000 fertilized eggs per breeding cycle and one million eggs in a year.

Quagga mussels have also been documented to be present in the Lower Colorado River from Pierce Ferry Rapid on Lake Mead through the southerly international boundary with Mexico, including the lakes mentioned above as well as Lake Powell, the Imperial Reservoir, Mittry Lake, Martinez Lake and Topock Marsh.

Quagga mussels are documented to be present in the Central Arizona Project (CAP) Aqueduct water delivery system from the Mark Wilmer Pumping Plant in Lake Havasu to the CAP canal mile 200 in Apache Junction and suspected to be present in the CAP Aqueduct from canal mile 200 in Apache Junction to the terminus at canal mile 337 south of Tucson, as well as the Salt River Canal System, beginning at the CAP Interconnect below Granite Reef Dam.

Quagga mussels or zebra mussels are documented as present in 29 states and in the Canadian Provinces of Ontario and Quebec

Mussels, because they are filter feeders that consume significant amounts of phytoplankton, can cause a shift in native species and disrupt the ecological balance of lakes.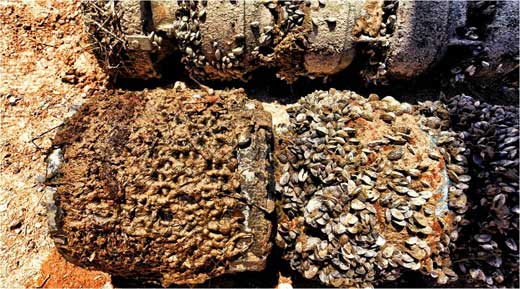 And because they settle in massive colonies, as pictured on the town's pump station equipment (above), they can block water intake that can affect municipal water supplies, agricultural irrigation systems and power plant operations.

Congressional research estimated zebra mussels cost the power industry in the United States $3.1 billion in maintenance and damage repair from 1993 through 1999. Adding in industries, businesses and communities, that number could exceed $5 billion.

In 2009, the Arizona State Legislature passed the Aquatic Invasive Species Interdiction Act, authorizing AZGFD to identify and assess those species considered aquatic invaders, identify the waters that are affected by those invasive species, and establish mandatory conditions for moving watercraft and other equipment from those waters.

The law was updated in July 2013.

In September 2011 AZGFD issued an 86-page Aquatic Invasive Species Management Plan.

The introduction states: "Aquatic Invasive Species (AIS) are threatening the public's angling and boating recreation and our state's water and electrical infrastructure. It is critical for anyone who owns or uses watercraft, or has a business reliant on watercraft, to understand the essential nature of this aquatic invasive species containment effort by the Arizona Game and Fish Department. The spread of quagga mussels and other aquatic invasive species has far-reaching impacts, both financial and ecological, that can touch virtually every resident of the state. Whether you fish, or boat, or simply get water and electricity to your home, these aquatic invaders WILL affect your lifestyle…and possibly your wallet."

Although boaters had been good at voluntarily practicing the clean, drain and dry rules, in addition to waiting five days before visiting another lake, AZGFD issued an order making it mandatory.

Now, there are mandatory watercraft decontamination protocols, as explained in the "Don't Move A Mussel" signs and brochures.

Before leaving the vicinity of any listed water in Arizona, all clinging material, such as plants, algae, animals and mud from anchor, boat, motor, trailer and all other equipment must be removed.

The plug from the watercraft, for those so equipped, must be removed and all water from the bilge, live-well and any other compartments that hold water must be drained.

Water must be drained from the engine, engine compartments and engine cooling systems.

Then the watercraft and any other equipment must be allowed to dry completely.

Long term boaters (more than five days) have a few additional requirements.

Cave Creek citizens recently learned how costly the damage wrought by these invasive species can be.

There will be a Pacific States Marine Fisheries Commission/AZGFD sponsored Watercraft Inspection/ Decontamination Training session open to interested public Sept. 30 – Oct. 1, 2014. For more information, contact Tom McMahon at 623 236-7271.