JUNE 11, 2014
Bus stop signs went back up Monday!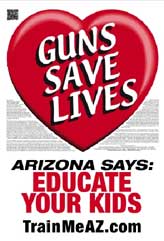 After three and a half years of censorship, the Arizona Court of Appeals cleared the way for TrainMeAZ to put up the Guns Save Lives bus-stop ads again!

Send a quick note of thanks to The Goldwater Institute's Scharf-Norton Center for Constitutional Litigation, because without them, TrainMeAZ could have never fought city hall. They're the reason freedom won. Show gratitude – goldwaterinstitute.org/contact-goldwater.

The signs were scheduled to go back up on Monday, June 9, if scheduling went as planned. If you're in this area, cruise by and check, even snap a picture. Send it over to Alan Korwin alan@gunlaws.com – and out to the world. It's a thrill to actually eyeball them, especially lit up at night (they're all illuminated 'til midnight).

Here are the initial locations (for six months!) and they'll be adding more:
(in Phoenix Metro)
• McDowell and 7th St., SW corner: Facing southbound traffic, in front of McDonald's
• Cactus Rd. at 42nd St., facing eastbound drivers
• Approaching the Paradise Valley Mall: Tatum Blvd. south of Thunderbird heading south
• Toward Camelback Mountain: Indian School Rd. at 3rd St. facing Eastbound traffic
• Next to Wendy's, in the heart of downtown
• Deer Valley Rd. facing westbound vehicles at 7th Ave.: NW corner of the Deer Valley Airport entrance

Total eyes daily: 511,000

Thank you to the TrainMeAZ sponsors!