My View
BY DON SORCHYCH | JUNE 11, 2014

Blaine Keith • Lawyering up
Colonel Blaine Keith, our friend and my father (even though our ages are separated by only six years) is moving. He is well known in Carefree and all over the country due to his stellar service in the military, both WWII and the Korean War, where he excelled as a Marine fighter pilot starting at age 17. He went on to be the lead engineer for NASA's Space flight programs was the President of Goodyear in the west.

Blaine is 89 and his broken right arm and hand are mending. The rehab has been successful and he recently walked 174 steps without a walker or cane. We briefly published the wrong address for Blaine's move. The one published didn't work out, but now he is established at Lovin Manor #1 at 29192 N. 76th Street, Scottsdale AZ, 89262. Directions are: Tom Darlington to Scottsdale Road. Scottsdale Road to Dixileta Dr. Left on E. Dixileta, right on 76th street, 29192 is on the right.

Blaine receives his mail in Carefree at P.O Box 910 and it is delivered to him by friends. He plans to be back in Carefree in a couple of months. Where? We'll let you know.

Send a card or letter or give him a call if you have his cell phone number. They don't make Americans like that anymore.

Lawyering up
Looks like Adam Trenk is lawyering up. You know he had hired Attorney Tim LaSota and in the hearing a week ago Judge Douglas Gerlach removed Trenk and Monachino from the recall. As a consequence, Cave Creek Caring Citizens PAC has begun another campaign to get recall petition signatures. We invite you to sign petition forms in our office, Monday - Thursday, and there will be someone near the Post Office. There will also be home visits to people who signed the initial petitions.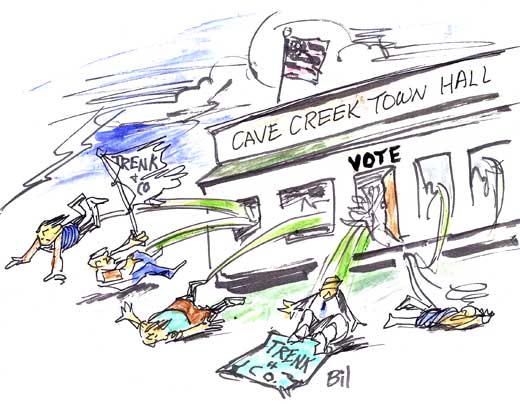 The court exposed previously unknown, peculiar requirements. Simple mistakes can result in a petition being thrown out, which may be as many as 15 signatures. Now petitions will have only one signature. At this point only Trenk and Monachino will be on petitions.

The hearing on Monday, June 9 regarding the recall of Mike Durkin and Charles Spitzer was conducted by Judge Oberbillig. He has continued the case until June 18. People involved in the recalls believe the case is winnable, provided an attorney is hired. Currently, Durkin and Spitzer remain subject to a recall vote in November.

Although the case of Trenk and Monachino may be appealed, there are petitions currently being signed.

So there is an important need for an attorney who is expert in election law to defend the Cave Creek Caring Citizens PAC. This will be expensive for those who volunteered to serve our town.
If you believe as we do that the slate is not the way to run our local government, then you need to unzip your wallet and give to the PAC to help in their defense. My estimate is they need to quickly raise about $15,000 to win the legal battles. So far Trenk and slate are represented by Tim LaSota and he has had no legal competition. It is time the PAC hired a winning attorney.

Cave Creek Caring Citizens PAC can accept donations at Parkway Bank, Cave Creek. It is account #40357-1. If you can't afford it tap a rich uncle. Let's not let New Jersey election seat buying work here.

Good news
Usama Abujbarah's attorney, Daniel L. Bonnett, has filed a complaint in Federal Court:
"This is an action for violations of the First Amendment to the United States Constitution. This is an action for violations of the first Amendment to the United States Constitution, Article II, Sections 5 and 6 of the Arizona Constitution, and the Arizona Employment Protection Act, A.R.S. 23-1501, et seq. This is also an action for defamation and breach of the implied covenant of good faith and fair dealing."

The action is against the Town of Cave Creek, Adam Trenk (individually and in his official capacity as Councilman of the Town of Cave Creek), Adam and Luisa Trenk (husband and wife). Trenk's attorney, Leon Friedman, wrote to Bonnett. Friedman cites cases he thinks make his point but he may have made a fatal error, or his client Trenk may have.

Bonnett's reply to Friedman begins as follows:

Re: Notice of Claim by Usama Abujbarah

Dear Mr. Friedman:

I am in receipt of your letter dated June 4, 2014 regarding the above matter. As a preliminary matter, the letter is untimely. As you may know, Ariz. Rev. Stat. 12-821.01(A) requires notice of claim to be served on a public entity or public employee preliminary to filing suit. A notice of claim was served on Mr. Trenk in his official capacity as a member of the Cave Creek Town Council on October 7, 2013. Ariz. Rev. Stat. 12-821.01(E) afforded Mr. Trenk a period of sixty (60) days to respond to the notice including denying any or all of the assertions in the notice. The sixty day period expired on December 6, 2013. Failure to respond to the notice of claim is deemed a denial. Thereafter, a party may commence litigation within the applicable period of limitations. Most of the state common law claims asserted by Mr. Abujbarah in the September 18, 2013 Notice of Claim require that he file suit on or before June 10, 2014. Since Mr. Trenk is an attorney licensed to practice in Arizona, it is unlikely that he was unaware of these statutory provisions and deadlines. To receive a letter at this juncture which purports to respond to the Notice of Claim coupled with a veiled threat of sanctions and attorneys' fees if Mr. Abujbarah decides to purse (sic) legal and equitable remedies in court is inappropriate.

The balance of the letter disputes most of Friedman's assertions. One point is that all four slate members are sued as council members but personally as well, which means they have to pay their own attorneys' fees. Whether the insurance pool firm or Dickinson Wright will foot part of the legal bill is unknown, at least to me.