JUNE 11, 2014
Free summer beach parties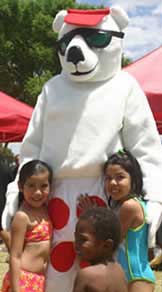 PHOENIX – The Phoenix Parks and Recreation and Fire departments are hosting Itty Bitty Beach Parties this summer at city pools. The parties are geared towards children 6 years and under and their families. Thanks to the generous support of Cigna, these poolside beach parties offer free admission.

Party guests can enjoy festive music, games, dance contests, and swimsuit contests. To keep with the beach party theme, Hawaiian leis, sunglasses, and prizes will be provided. Phoenix Fire will be providing CPR awareness tips and demonstrations. A water safety puppet show will also be incorporated into the event to teach kids how to stay safe around water.

Each Itty Bitty Beach Party runs from 9:30 to 11:30 a.m. The free beach parties will be on Friday, June 13 at Deer Valley Pool, 19400 N. 19th Ave.; Friday, June 20 at Pecos Pool, 17010 S. 48th St.; and Friday, June 27 at University Pool, 1102 W. Van Buren St.

Additional information on all Itty Bitty Beach Parties is available online on the Pools page at http://phoenix.gov/parks/pools/eventfree.html or by phone at (602) 534-6587.