My View
BY DON SORCHYCH | JUNE 4, 2014

Lawsuits
Last week was the week of lawsuits. First of all I received confirmation from Attorney Carol Lynn de Szendeffy that we prevailed in the case brought by neighbor Gerald Freeman. Freeman brought a claim that only he could use the easement crossing my property which he uses to access his home, even though I own and pay taxes on the underlying property. Judge Aceto ruled against him and he appealed. The appellate court ruled against him on every claim. He then appealed to the Arizona Supreme Court and they refused to hear the case. The Supreme Court also awarded attorneys fees. We already had been awarded $14,000 in attorney's fees from the first two cases so there will be further awards after de Szendeffy makes her claim and the amount is approved by the court.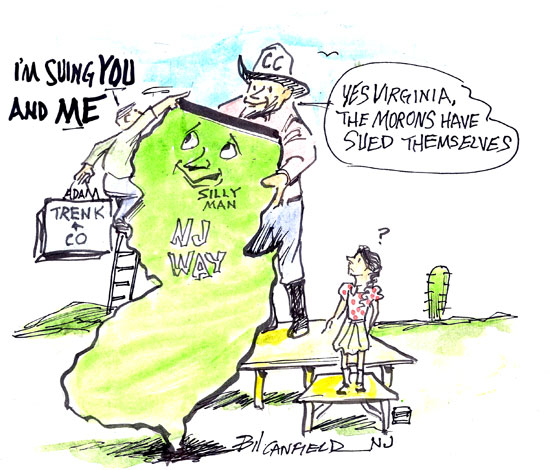 The second lawsuit was brought by Adam Trenk's attorney Tim LaSota. Interestingly, the plaintiffs are Adam Trenk, Reg Monachino and Charles Spitzer. Mike Durkin is not listed as a plaintiff but is discussed in the body of the complaint. Whether it is because Durkin chose not to be a plaintiff or that the slate did not want to be a majority of the council isn't known at this time.

The case was heard by Judge Douglas Gerlach, the same judge who is hearing Usama Abujbarah's case against the slate.

Defendants in the case brought by Trenk, Reg Monachino and Charles Spitzer are Susan Clancy, Hani Saba, Elections Recorder Helen Purcell, Board of Supervisors of Maricopa County, Town Clerk Carrie Dyrek and the Cave Creek Town Council.

Yes, Virginia, these morons have sued themselves.

It looks like Trust Fund baby Trenk is not going to lose the beginning four years of his planned march to Washington. Especially since his family and friends gifted him with over $50,000 to seat him on little Cave Creek's council.

The Trenk family rightly saw that we were politically a low rent district and decided to buy the favorite son a council seat. Think of what Scottsdale or Phoenix would have cost them.

So now, in true New Jersey style, Trenk and company are suing the town and themselves.

There are numerous issues brought about by this lawsuit. Since they are filing for an injunction it is not covered by our town insurance carrier so guess what – it will be defended by Dickinson Wright, formerly Mariscal Weeks. I would bet Gary Birnbaum will field Fredda Bisman who is a sure loser. When the slate took over their choice was Bisman as their town attorney and she has done a dismal job. Let us not forget Trenk said he and Bisman drafted the motion to fire Abujbarah. That motion has so far cost the town tens of thousands of dollars and the lawsuit is seeking about three million dollars. Birnbaum also came into the picture and supported the controversial motion. Birbaum really should recuse himself because he and Trenk were close when Birnbaum was his professor. How can he defend Cave Creek when he has so much skin in the game?

You will read the details in Linda Bentley's front page news article. She called and informed me Trenk and Monachino have been eliminated from the recall because of a ruling in the appellate court in a Tucson case, which eliminated enough petition signatures to let them off the hook.
Another highlight is that Clancy asked Trenk about his signing James Gandolfini's name on a petition. Trenk, like Obama's Lois Lerner, pled the Fifth Amendment. The judge then asked him if he had signed an illegal name on line seven of a petition and Trenk admitted he did. I believe there are plans to put that illegal action by Trenk in the right hands to be prosecuted. Signing an improper name on a petition is at least a misdemeanor.

The plans are to collect signatures for Trenk and Monachino again. The petitioners have the month of June to gather at least 293 signatures in time to get them on the recall ballot. Hopefully they will go for 400 or more signatures that are carefully examined to subject Trenk and Monachino to recall.

So watch for places to sign. We will once again make petitions available to sign at our office. There will be a signup table in the vicinity of the post office and probably home visits as well.
I don't know about you, but Trenk and his associates are becoming more and more unpopular. Suing to stay on the council when the town doesn't pay a dime for the service is not something most thinking people would do, unless they really want to serve.

If you sign up on our website, we will notify you via email when we have published the locations to sign petitions. On June 18 we will also print the locations where petitions can be signed.
Given continued voter support of the recall, Trenk and Monachino will again be subject to recall. However stay tuned to continued legal actions by Attorney Tim LaSota and Trenk.