BY MARIELLE D. MARNE | JUNE 4, 2014
Silly name, serious food at the Horny Toad
CAVE CREEK – As the Horny Toad Restaurant & Bar eases its way into four decades next year, owner Jeff Price is keeping with the status quo. "That's one of the things you can count on at the Horny Toad," he said. "It doesn't matter if you loved the chicken or the ribs or the tuna melt, when you come back you know it will be just as good as the first time."

One reason customers see consistency is because much of the staff is almost as long tenured as the establishment. "I couldn't do this without my team," Price praised. Not only does Price appreciate his servers, his cooks, his greeters, but diners feel like they are among family when they are welcomed by name. Through the years Horny Toad has certainly established a loyal following.

With the summer slow-down settling in since snowbirds have taken flight, this is the ideal time to nosh at the Horny Toad. The fried chicken continues to be the hands-down favorite and Price figured by his tally they have served 2.5 million pounds of it since they opened. Of course, customers still flood in for the Friday fish fry. It's all-you-can-eat, center-cut, deep fried Icelandic cod with fries and slaw, $14.95! Visit Facebook for daily specials.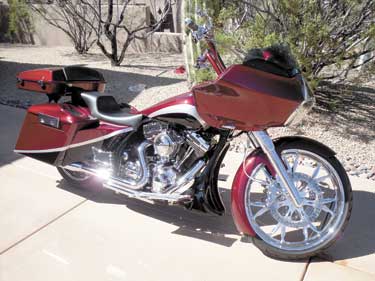 There are lots of reasons behind the Horny Toad's success, including its consistent A rating with the health department, the fun private party venue, the outdoor dining patio, its community support and involvement and even Price's 2004 Harley Horny Toad bike!

So before the tourists come back in droves, visit your neighborhood Horny Toad Restaurant & Bar at 6738 E. Cave Creek Rd. For other pertinent details, call 480-488-9542 or visit thehornytoad.com.