MAY 28, 2014
City of Scottsdale publishes "Truth in Taxation" notice
This Truth in Taxation hearing notice regarding the city of Scottsdale primary property tax levy is being published as required by Arizona state law.

A public hearing on the proposed property tax levy will be held immediately prior to final budget adoption, scheduled at 5 p.m. Tuesday, June 3 at Scottsdale City Hall, 3939 N. Drinkwater Boulevard.

The amount of the city property tax you pay is based on two factors: the tax levy set by the city and your property's assessed value (as determined by the county) as a portion of total assessed values in the city. About 13 cents of every dollar in property taxes paid by Scottsdale property owners goes to the city, and the remainder goes to public schools, the county, community colleges and various special taxing districts.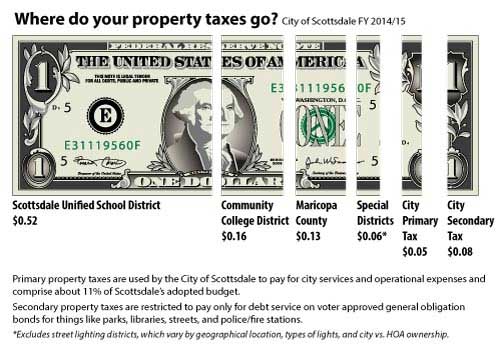 Citizens with questions regarding the city property tax levy or other budget issues may contact the Finance and Accounting Division at 480-312-7084.

Truth in Taxation Hearing: Notice of Tax Increase
In compliance with section 42-17107, Arizona Revised Statutes, the City of Scottsdale is notifying its property taxpayers of Scottsdale's intention to raise its primary property taxes over last year's level. Scottsdale is proposing an increase in primary property taxes of $1,931,207 or 7.39 percent.

The proposed tax increase will cause Scottsdale's primary property taxes on a $100,000 home to increase from $51.59 (total taxes that would be owed without the proposed tax increase) to $55.40 (total proposed taxes including the tax increase).

This proposed increase is exclusive of increased primary property taxes received from new construction. The increase is also exclusive of any changes that may occur from property tax levies for voter approved bonded indebtedness or budget and tax overrides.

All interested citizens are invited to attend the public hearing on the tax increase that is scheduled to be held on Tuesday, June 3, 2014, at 5 p.m. at Scottsdale City Hall, 3939 N. Drinkwater Boulevard, Scottsdale, Arizona.