BY LINDA BENTLEY | MAY 28, 2014
Budget savings aren't really savings if the money's never spent
Royer said Cave Creek used to have a reputation as being difficult, expensive and time consuming to do business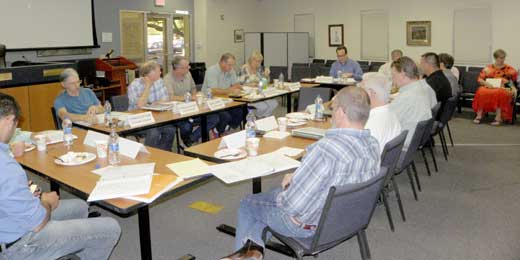 CAVE CREEK – Opening up the May 20 budget workshop, Town Manager Peter Jankowski said he wanted to have a "consensus budget."

Finance Director Robert Weddigen provided an overview and explained items that had been moved to different accounts, such as separating IT from administration.

He said the economy is doing quite well and the budget included 2 percent cost of living increases and up to 3 percent merit increases.

He said medical costs are expected to go up and Workers' Compensation is going up 16 percent.

Jankowski said he wanted to go through the document by going through expenses first.

When Mayor Vincent Francia asked what 2 percent meant in dollars, Jankowski replied, $55,000.

Gabe Royer, who served on the budget committee, said it was a workable budget but it was hard to look at the history with the changes.

David Smith, who also served on the budget committee, touted $1 million in savings over last year. But he asked council to look at infrastructure so it doesn't further degrade.

Councilman Reg Monachino, who is being recalled, stated, "We have to pay our debt service. We need reserves, need to have roads and utilities. This is $1 million less and still gets the job done.

In reviewing the budget with emphasis on the reported $1 million in savings, it appears the bulk of those "savings" was removing the item to pay off the note on town hall, which was budgeted for this year. It was determined not to be in the town's best interest to pay it off at this time and not spent. So not spending a budgeted item and then not budgeting to not spend it the following year hardly constitutes a savings.

Jankowski said the $60,000 in his budget is not for him but for merit pay. Department heads need to look at a way that's fair; and they are not required to spend it.

He said that was the only change he had, other than carrying forward $12,000 for relocation expenses.

Councilman Charles Spitzer, also being recalled, asked if they had any plans for Patty Pollnow's position. Pollnow was hired for a nine month contract at $1,000 per month by Interim Town Manager Rodney Glassman for community outreach.

Jankowski said the position was budgeted under planning and economic development.

Town Clerk Carrie Dyrek said the administration budget spelled out contracts for professional services and non-professional services, including consolidated elections, animal care and secretarial services.

She said insurance was broken out as well as postage, copier and other office expenses.

Jankowski said the IT budget was in transition and the town was currently using a third party. He said they plan to bring that person, who knows their system very well, in house to save money.

Dyrek said the town was working in the direction of online subscription services for disseminating information to move away from mailing printed copies.

Spitzer asked if there were any plans in the next year to integrate so software talks to each other.

Jankowski said that was something they'll be looking at when the new person comes on.

He said legal services were $195,000 last year, which he wanted to increase by $55,000. He said $25,000 was going to a settlement.

"Right now we're at $235,000," said Jankowski.

Planning Director Ian Cordwell said his staff is reduced to three and a quarter, pointing out Marie Carsia has been at the front desk for some time. However, Cordwell said he'll be utilizing her once again with the general plan coming up.

He stated Pollnow will be working on economic development and they would continue to work on trails, streetscape and the bike lane project, with which they were working with ADOT, and going for grants for other projects.

He said, two-thirds of the project outlined in the framework study is in Carefree and the project is scheduled over a three-year period.

Also slated for recall, Councilman Mike Durkin asked Cordwell to reconcile the numbers between the bar graph on page 40 with the numbers on page 41.

Cordwell said the numbers on page 41 were correct.

He said it was $100,000 cost to the town over three years for the bike lane project and he was working with ADOT and Parsons Brinckerhoff, which will be wrapping up the design in the fall.

Francia asked about economic development.

Monachino said, "I think we can afford it. It depends how we want to do it – hire someone or contract it out."

Cordwell said economic development goes hand in hand with planning.

Durkin said he's all about measuring progress and proposed the planning department set goals and then see if they meet them.

Jankowski said the town currently has $12,000 budgeted for an outreach person.

Smith asked what council wanted.

Durkin said they were opening a can of worms. First they needed to identify the next phase and blend that in with the cost of what it takes to run the town.

He said they need to do a study of how much revenue they need to generate.

Smith asked, "What do we want to be in 10 years? Government does some things well, some things it doesn't."

Vice Mayor Adam Trenk, also on the recall chopping block, said they need to attract new business and new residents while working hand in hand with the existing.

He said, "We need to define additional revenue we need to generate. I think we will need to outsource this to some extent. It's not the job of the planning department. I think we're putting ourselves in a box."

Trenk said it was important to allocate some revenue for public relations.

Durkin asked, "So you're suggesting we need to outsource this to do what specifically?"

Trenk stated, "We have 32 special events per year and we need to make sure media and people are aware of them."

Durkin responded, "That's publicity, not economic development."

Trenk said he didn't think the planning department was right.

Francia said, "We're talking about two different things here. Both have value. Which of the two do you want to have?"

Durkin said, "We're not ready to hire an economic development consultant until we have a vision. We haven't defined for ourselves what we want Cave Creek to look like in 10 years."

Trenk said they could add money to the budget for an economic development coordinator, adding, "We don't have to spend it."

Francia said, "We need to let business developers know we're here," pointing out Walmart and McDonald's came to the town, the town didn't go to them.

Royer said municipalities were simplifying regulations for doing business and Cave Creek used to have a reputation as being difficult, expensive and time consuming to do business.

He said, "Make it a receptive environment so businesses want to come here."

Jankowski said, "We've been pretty receptive."

Cordwell said they've streamlined many of their processes.

Royer said, "It's important to get the word out that we're a business-friendly environment."

Francia said if more needs to get done, that's council's job.

Monachino said, "Suppose we add $100,000 to the budget for economic development?"

Jankowski said he wasn't sure everyone in the room agreed what economic development meant.

Francia stated, "If people want this lifestyle to continue, economic development has to occur."

He balked at suggestions for types of development that do not produce revenue and said, "I don't see any reason to support that."

When Smith mentioned the Enchanted Canyon project, Trenk interrupted and said, "We're getting way off base here."

Councilman Ernie Bunch said of the 32 events, only four are sponsored by the town. He said it was not the town's responsibility to spend town money to bring people to town for other events.

Monachino said, "Four events are not going to support the town."

Bunch responded, "It's not our business to promote the other events, just get out of their way."

Jankowski asked if they wanted to add $60,500 to the budget for economic development, making that budget item $100,000.

Building Official Mike Baxley said there were no changes to Building and Fire Safety other than $5,600 up for personnel.

Town Marshal Adam Stein said the MCSO contract was up $18,000 and said his budget covers special event coverage, the emergency alert system, supplies, subscriptions and traffic control coverage for town-sponsored events.

He said there were no real expenditures for equipment and with the new intergovernmental agreement for the consolidated court, they no longer had to pay for prisoners.

Weddigen said his budget has increased costs for software maintenance, increased staff training and supplies.

He said the town has signed a two-year agreement with extensions for audit services but stated the state was taking over audit functions and the town would be posting an RFP to its website and will ask candidates to identify their audit plan.

Jankowski said the town will have more control under the new RFP.

Under the town council budget, the only major change was for third-party community grants with a reduction to $30,000 from $40,000, since the town opted not to provide the library with $10,000 due to its $2 million cash reserves.

The contingency account is comprised of 2 percent of the revenue from sales tax. However, council would have to vote to use it.

Durkin asked if they could put more than 2 percent in contingency.

Weddigen explained contingency is not a budget item.

Smith clarified by stating, "It's spending authority."

Engineering's budget reflected a reduction in personnel and an increase for the remodel of town hall.

Jankowski said they were transitioning to have one department, consolidating management and personnel with utilities.

Utilities Manager David Prinzhorn said there was $1.5 million allocated for roadway maintenance, $523,000 in HURF funds and $29,000 for the Rodeo Grounds.

Weddigen said special events were first incorporated into the budget last year.

Equipment, such as a generator and message board used for events, are items Stein said are purchased at auction each year.

Weddigen said the revenue is recorded under miscellaneous in the general fund.

Spur Cross is budgeted at $18,000 per month and is what Maricopa County charges the town for maintenance.

There was discussion about possibly budgeting for Indian grants that are available from the various Native American communities for certain projects.

Smith said putting money in the budget for grants would diminish the amount of their $1 million savings.

Cave Creek Museum Executive Director Evelyn Johnson, the only member of the public in attendance, made a statement on behalf of the museum and other local nonprofit organizations, asking the town to keep them in mind.