My View
BY DON SORCHYCH | MAY 28, 2014

The recall is on!
Expectation is increasing about the coming November election to return the town to normal operations. First of all the county reported on the status of petitions which is part of the recall campaign to replace the slate, Adam Trenk, leader of the band, Mike Durkin, Reg Monachino, and Charles Spitzer.

On, Friday May 23, Monachino was deposed; the other slate members were already done.

The depositions were to a large extent guided by emails between the parties, even though that phase of the lawsuit is far from over due to inadequate response by the defendants. The town has dragged its feet on simple transparency issues which are part of public record statutes.

The important First Amendment issues will be tried in Federal court and the filing of that case is expected before June 10. In that event defendants will likely be on their own since First Amendment matters are not town matters.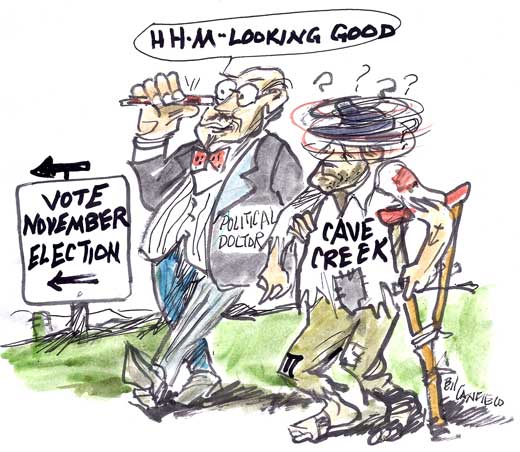 However, since I started writing this week's editorial, Maricopa County has revealed that all four slate members are up for recall.

Linda Bentley has an article about the county's certifying the recall of all four in this issue. Town Clerk Carrie Dyrek notified the slate that they have five days to resign or they will automatically be placed on the ballot.

For good reasons the state legislature made recalls very difficult after Patriot Conservative Russell Pearce was removed from office when recalls were a slam dunk. In Cave Creek 293 signatures were required to recall a councilman. Fortunately volunteers got plenty of signatures over 293. Here is the scorecard from Linda's article:

Trenk: 446 submitted, 78 invalid, 368 valid
Durkin: 402 submitted, 70 invalid,332 valid
Monachino: 385 submitted, 71 invalid, 314 valid
Spitzer: 403 submitted, 83 invalid, 320 valid

The original signatures turned in were Trenk 488, Durkin 430, Monachino 456 and Spitzer 466. So there was substansial erosion just due to petition complexity, not signatures, except for Trenk's phony signature for TV mobster James Gandolfino.

These numbers were remaining after the town declared some signatures invalid for various reasons mostly back page issues and not signatory. So the numbers should not comfort the recall councilmembers.

There are currently three candidates for council with at least two more considering a run. Now that the recall is on, more possible candidates should emerge.

Late Breaking News
Our attorney, Carol Lynn de Szendeffy, informed us that the State Supreme Court had denied Gerald and Janice Freeman a review. Thanks to de Szendeffy we prevailed in superior court, appellate court and a review by the State Supreme Court was denied. Details in next week's print edition.