MAY 28, 2014
Above and Beyond: Arizona and the Medal of Honor
A new exhibit at the Arizona Historical Society Museum at Papago Park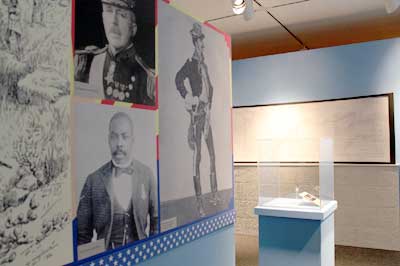 "Above and Beyond: Arizona and the Medal of Honor" is a new exhibit that tells Arizona's amazing history with the Medal of Honor, which is filled with iconic names like Geronimo, Cochise and Frank Luke, Jr. and includes the earliest action for which the nation's highest military decoration was ever awarded.

The exhibit features five actual Medals of Honor earned by a diverse mix of military service members, either in actions conducted in Arizona or by our state's native sons at war abroad. Supporting the medals are graphically-rich displays, multimedia presentations and other historic artifacts which tell stories of service and heroism from the days of the Arizona Territory through Vietnam.

Museum admission includes this exhibit and is free for Veterans and for members of the Arizona Historical Society. Other adults pay $5, ages 60 and older and ages 12-18 pay $4, and children ages 11 and younger are admitted free. The museum is open Tuesday through Saturday 10 a.m. to 4 p.m. and Sunday from noon to 4 p.m.

Visit www.azmoh.org for additional information.

Arizona Historical Society Museum at Papago Park is located at 1300 N. College Ave. in Tempe. Above and Beyond will complete its six month run in Tempe on Nov. 2, after which it will travel for the next two and a half years to Arizona Historical Society museums at Tucson, Yuma and Flagstaff, and to the Sharlot Hall Museum in Prescott in six month intervals.