BY LINDA BENTLEY | MAY 21, 2014
Council boots First Amendment conflict from sign ordinance
'Council does not need to invite litigation'
CAVE CREEK – Council discussed the first reading of an ordinance to amend the sign ordinance pertaining to restrictions for sandwich signs to 20 days per month and four days per week, as well as prohibited language and symbols for medical marijuana dispensary signs.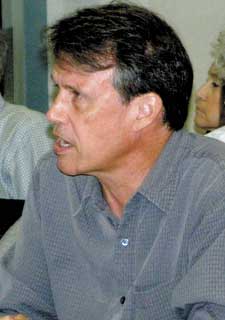 Planning Director Ian Cordwell (r) said proposed amendments to the sign ordinance reflected a 20-day per month and four day per week limit for sandwich signs.

Cordwell said the planning commission did not support the changes and recommended denial.

The commission said it would be a burden to enforce and didn't support the marijuana restrictions without a legal opinion.

Councilman Mike Durkin asked Town Attorney Fredda Bisman what her legal opinion was on the matter.

Bisman said the activity is legal in Arizona but on the federal level it's still a prohibited activity.

She said the restrictions must be narrow and serve a compelling interest.

Bisman stated it would protect minors from the activity and they are making one exception for a single business.

Bunch said, "So it's a possibility we'd lose in state court and win in federal court."

Vice Mayor Adam Trenk asked Bisman if she thought it could withstand that test.

Bisman replied, "Yes."

Trenk asked if there were other ordinances like that in other municipalities.

Bisman said there were but she didn't have any with her.

She said it was for aesthetics and protecting minors.

Town Manager Peter Jankowski said he didn't think it was necessary to include the 20-day/4-day restrictions and asked if that section could be removed at this time.

During public comment, Janelle Smith Haff said the section dealing with the marijuana signs violates free speech and asked if the reasons were more the compelling than the gun store next door to the dispensary.

She said, "Council does not need to invite litigation."

Anna Marsolo stated Cave Creek has a complaint driven system whereas enforcement is based on "your neighbors ratting on you."

She asked who was going to enforce 20 days per month, four days on three days off.

Marsolo stated, "We have three newspapers to advertise in. Any law you create is only as good as the enforcement. Let the town marshal do his job."

Roger Kohrs thanked the town for dealing with the non-compliant signs and said they were a distraction to what the town has to offer. He also mentioned the cabins in front of Hogs 'N Horses and noted the recent winds blew some of the roofs off and said it was a safety issue.

Kohrs said, "Let's move forward in a positive way."

Bruce Bieneck stated he wasn't sure what council was voting on and if they could clarify the 20 days.

He said the sign issue is a problem that makes the town look more like Quartzsite than it did 10 years ago.

He questioned whether businesses had liability coverage if their signs blew over and did damage.

Bieneck said business owners should transition to other messaging.

Ellen Kohrs said she echoed Bieneck's comments about looking like Quartzsite and said El Palenque is a beautiful business but you can't even see the monument signs because of all the sandwich sign clutter.

Bob Moore said the former temporary town manager told him he and his wife were the only ones who complained about the signs.

He said "dynamic inactivism" caused Cave Creek to become a circus but noted a little enforcement and the signs have mysteriously disappeared.

Moore pointed out the ordinance didn't change, enforcement did.

Mark Lipsky asked why prohibiting a green cross or green leaf became a part of the ordinance.

Bisman said those are symbols used for marijuana.

Lipsky said if it's legal in Arizona, why would it be in the ordinance.

Fredda reiterated it was protecting youth.

Lipsky said the symbol of Budweiser was more dangerous to youth.

Trenk moved to approve the ordinance with Durkin seconding the motion.

Trenk said he took issue with the clutter through the town core, the signs being abused and enforcement neglected.

He said he was not suggesting he was married to the language in the ordinance.

However, while the drugs are still classified by the federal government as a schedule 1 controlled substance, Trenk said the signs would send a bad message to our youth and might encourage their curiosity to experiment.

Durkin said he agreed with the town manager that they didn't need that section but the marijuana section was a tough one for him with respect to youth, stating, "This free speech thing bothers me. I don't have a high confidence level this won't be challenged."

Councilman Thomas McGuire said he echoed what Durkin said and had concern over a legal challenge.

And while they've seen about a one-third reduction in the number of signs recently, McGuire said a number of the signs are not in compliance with the ordinance as written.

"I'd like to see enforcement of what we have now before we jump forward," said McGuire.

Councilman Reg Monachino stated, "I don't really have the skill set to argue First Amendment rights. If it's for health, safety and welfare, we should be able to enforce what's on the books."

Councilman Charles Spitzer said it was true there is visual clutter in town and the town cannot withstand all of its businesses having all these signs.

However, he said the 20-day/4-day provision is too much of a burden to enforce and suggested amending the ordinance to say if a building has a marquee, the business does not have the ability to have a sandwich sign and sandwich signs could only be out for others during business hours or the town will remove them.

Trenk did not want to accept Spitzer's friendly amendment so Monachino seconded it.

However, it failed by a vote of 3-4 with Bunch, McGuire, Trenk and Francia dissenting.

Trenk offered to strike the 20-day/4-day section and amend to require signs be brought in when business is not open or they will be removed by the town.

Durkin said he didn't think the term "brought in" was well defined enough.

Anna Marsolo asked for clarification, questioning who was going to enforce the ordinance on weekends when Town Marshal Adam Stein is not working.

Durkin said he was reading the new language on the marijuana section and asked Bisman what they could not have on their sign.

Bisman said they couldn't have the product they're selling on the sign, unless it was part of the legal name of the business.

Spitzer noted a green cross throughout Europe is the symbol for pharmacy.

Mayor Vincent Francia said this matter has importance and in addition to health, safety and welfare, they've added aesthetics.

He said he didn't differentiate between personal speech and business free speech, and stated his main problem and discomfort with the ordinance was with free speech.

Durkin offered a friendly amendment to Trenk's motion to eliminate the section regarding marijuana completely, which Trenk accepted.

Council voted 5-2 to pass the first reading of the ordinance with McGuire and Francia dissenting.