MAY 21, 2014
Soroptimist scholarship awarded to CSHS senior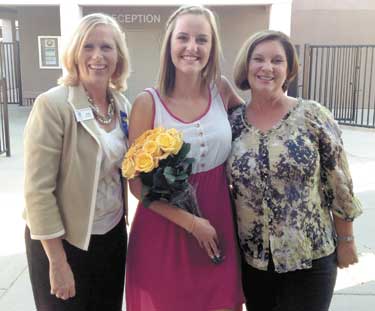 Judy Malark and Julie Williamson, on right, of Soroptimist International Saguaro Foothills with S-Club Scholarship recipient Kristen Hartlen, center.


The Saguaro Foothills Chapter of Soroptimist International, or SISF, recently awarded their annual scholarship package of $5,000 to Kristen Hartlen, a member of the S-Club at Cactus Shadows High School (CSHS). The presentation was made possible by Superintendent Deb Burdick and Board Member Karen Tuffs and given at the Cave Creek Unified School District Governing Board's Business Meeting on Tuesday, May 13.

Soroptimist is a volunteer organization created to empower and improve the lives of women and children. Within the Cave Creek Unified School District, SISF sponsors the 'Off to a Good Start' backpack program for children from low-income families as well as the CSHS S-Club, a service organization for high school girls. SISF also supports the CSHS girls' Softball Team, the SHE event, a self-esteem workshop for middle school girls and Grad Night for CSHS Seniors. They also support BobCat's Closet at Black Mountain Elementary, a clothing resource for low-income families with young children. Some of the projects SISF locally supports include: The Foothills Food Bank, Adopt A Family and UMOM. SISF presents the Women's Opportunity Award, Violet Richardson Award and Ruby Award to deserving women who are making a difference in their communities or overcoming difficult situations. SISF welcomes women who want to "pay it forward" and engage in their community in impactful and exciting ways. SISF can be found on Facebook at Soroptimist-Saguaro Foothills and is developing a new website at www.sisaguarofoothills.org

A few of the S-Club's volunteering highlights in our community this year under the leadership of Kristen and the other S-Club officers included: supporting the Foothills Food Bank through Adopt a Family, helping Caring Corp with their Valentine's Day Luncheon and Holiday Wrap A Thon, as well as assisting at Scully Learning Center. Kristen demonstrated strong leadership skills, responsibility and encouraged an attitude of inclusiveness. She will be attending Arizona State University in the Fall to pursue a degree in business.

On behalf of SISF, Ms. Amy Metcalf, the Advisor to the S-Club from the Teaching Staff of CSHS, and all the S-Club members, congratulations and best wishes to Kristen on all of her future endeavors.