MAY 21, 2014
Award-winning student from CSHS Class of 2014
Ashley Durham received the Outstanding Youth Volunteer Award from the Arizona State DAR. Danna Spence Koelling, the AZ State Regent, and Sue Irwin, the AZ State Chairman of Veterans Services, presented Ashley with the award on Friday, May 2, 2014. Ashley attended the event accompanied by Barbara Hatch, Founder of the Veterans Heritage Project, WWII veteran, Walter Davidson, friend and fellow VHP member Sofia Ripa, and her mother, Lynn Durham.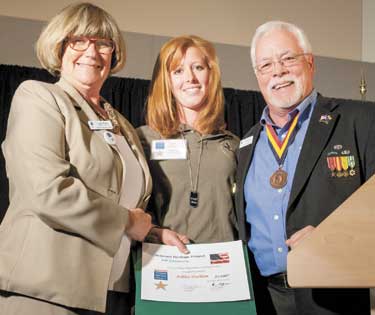 A few weeks prior, on Sunday, April 13, 2014, Ashley was awarded the $3,000 First Place Veterans Heritage Project Scholarship at VHP's Annual Book Signing and Veterans Reception. Pictured here presenting the award to Ashley are VHP President Laura Byers (left), and veteran David Lucier.

On February 12, 2014, Ashley was among three who were awarded the $2,000 Copper Lamp of Knowledge Scholarship at the Arizona Veterans Hall of Fame Society's Patriotic Gala held at the Phoenix Airport Marriott Hotel. VHP Founder, Barbara Hatch, as well as many VHP student representatives were in attendance, as were Ashley's father, Chris Durham and her mother Lynn Durham. The two other winners were Michael Zucker (Chaparral High School), and Anastasia Cossette (Ironwood Ridge High School).

In addition, Ashley was recently notified by Dr. Blake Olson that she has won a $4,000 scholarship from the Kiwanis Club of Carefree.

Ashley has decided to attend Barrett Honors College at ASU this fall. Congratulations from our community to Ashley!